This was a question I got from a friend in tech support the other day and it's a pretty good one. Short answer is yes, here's why:
At 9.2 we added a number of different reconcile options offering users more flexibility when reconciling versions in an ArcSDE geodatabase. For those reading this that are wondering what a reconcile is or how versioning works I would suggest reading the Understanding Version section in the ArcGIS desktop web help. As the graphic below shows, at ArcGIS 9.2 we augmented the reconcile dialog to give users a choice of how conflicts are defined and resolved.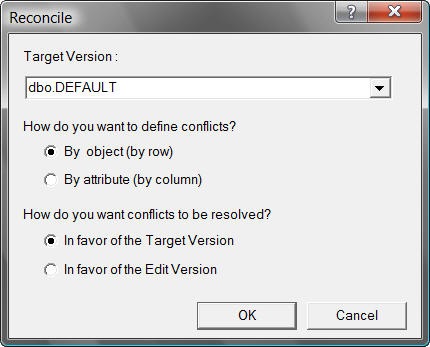 At ArcGIS 9.2 you can now determine how a conflict is defined either by object or by attribute. Also provided at 9.2 is the ability to specify how conflicts encountered during a reconcile are resolved. Conflicts can be resolved in one of two ways either in favor of the version you are reconciling with (Target Version) or in favor of the version that is being reconciled (Edit Version).
The important part here is all the logic for these options resides in the connecting application and not in the ArcSDE geodatabase. What this means for you is that if these options are available (i.e. you are connecting through ArcGIS 9.2 or a more recent release) you can use these options during a reconcile even if you are connected to a ArcSDE geodatabase that has not been upgraded to a recent release.
As a side note, the same also applies for the merge geometries functionality we added at 9.3.