In Part 1 of our mini-series on cache, we covered its implications with the default map and using other maps and layers from the Resource Center. Here in Part 2 we'll take a closer look at managing cache when connecting to individual services and local data.
ArcGIS Explorer either fetches cache (when leveraging cache or cache-on-demand capabilities in ArcGIS Server) or creates it when you first connect to content. This happens whether it's an internet service or local data. This results in optimized performance, and also enables offline use. But there may be times when we don't want to create cache, or when we might want to update it at regular intervals. For example, when we connect to a weather service that is continually updating.
When you add content to ArcGIS Explorer you go through a wizard, and will eventually see the Disk Caching Options dialog (except when you connect to GeoRSS feeds, or add KML or KMZ, which don't use this option).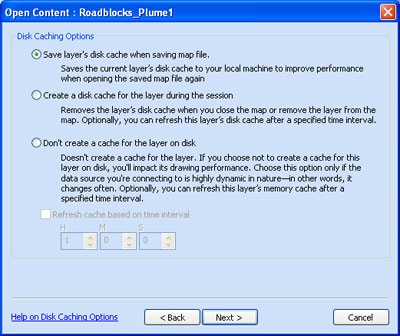 Let's examine the options more closely.
Save layer's disk cache when saving map file.

This option is the default, and is appropriate for any non-dynamic content source. This will ensure that cache that is fetched or created during your session is saved locally when you save your map. The next time you open the map, you won't have to fetch or create cache again; it will be read directly from your local cache saved to disk.
Create a disk cache for the layer during the session.

Cache will be created as you work with your map during your session, but won't be saved. This is appropriate for content you know will change, but aren't sure how often it may be updated. It can be augmneted by choosing a time interval for refreshing the cache, discussed below.
Don't create a cache for the layer on disk.

Cache won't be saved at all, but this means that it will be continuously fetched or created.
A good option to use is the time interval option which clears all layer cache at the specified interval. This is optimal for most dynamic content like weather. We can set an update, say every 15 minutes, and cache will be cleared and refreshed at the specified interval. When the map is saved and reopened, the layer will automically refresh its cache and then updated at the specified interval.
Using these choices you can ensure you've got both the best performance and are viewing the most up-to-date content.
Another way you can refresh cache is manually by using the Layer Manager (Tools > Manage Layers).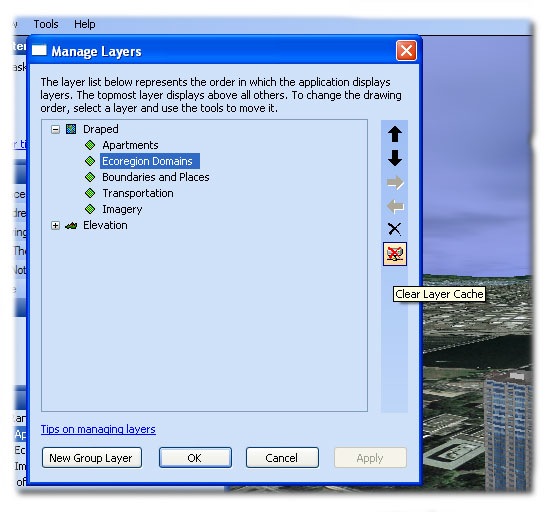 Highlight the layer and click Clear Layer Cache to remove all cache for that layer.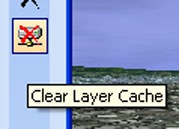 And a final way to remove cache is via Tools > Options > Cache > Disk Cache. Choosing All Caches and clicking Delete Caches will clear all your local ArcGIS Explorer cache. We covered this at the end of our previous post.