nfurness
Recent Posts
Here's my take on the 2010 DevSummit. I've never been to the DevSummit before so I wasn't quite sure what to expect but I had a blast and will make sure I get to go to as many as I can. Why not write up your own take on the summit and let us know how you enjoyed it?
Monday
I was excited to be going to this year's DevSummit after what I'd read about last year's event. As the 5th summit, this was something of a milestone for the team and we felt we had a fantastic few days lined up for our dev community.

It took about 13 hours of travel to take me from wintry New York to sunny Palm Springs. By the time I got there, the first day was over. Here's what I missed:
And here's what I made it to:
---
Tuesday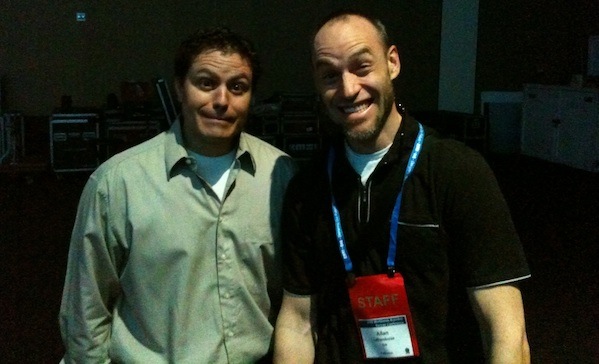 Tuesday started early. I registered and ducked backstage at the plenary. I got to meet @DCardella at last (seen with @Al_Laframboise to the right), just as Jack was getting wired up backstage and people began filling up the auditorium.
The Plenary
I had no idea what the vibe would be for the DevSummit, and hoped the plenary would be a good indicator. Here's what I took from it:
Well organized, and very professional.
Relaxed, casual, community-based and friendly.
Large, yet focused.
In case you've never been to a DevSummit, it turns out that's how the whole event feels.
There was plenty to tweet about from the outset (and this year the wireless network was perfect almost the whole time). This DevSummit was firmly focused on ArcGIS 10, a huge release by any measure and it took up a vast portion of the plenary. Jack's brief introduction showed the enthusiasm he had for it. In no particular order, the plenary covered:
Desktop usability enhancements
Python scripting and Geoprocessing in Desktop, Engine and Server
Updates to Silverlight, Flex and JavaScript APIs
Server and Caching
The impressive ArcGIS Explorer Online
iPhone (with a demo from EDN's @dcardella)
Plans for EDN and our developer community from @JimBarry
ESRI's future plans: Web, the cloud, and the unification of our technologies around ArcGIS.com.
Agenda for the DevSummit, including the Dodgeball tournament.
The plenary videos are all available here. There's also this write-up by @jiriteach pulled together from the backchannel.
Technical Sessions
Technical sessions and User Presentations started up after lunch. I made it to:
We'd made a lot of changes to the User Presentations after your feedback from the 2009 summit, and we're pleased with how they turned out. Some (including the one above) were standing room only, a clear indication to me that our community is a strong one.
Here are some tweets from the day:
@GISdork: Mad I'm not at the ESRI dev summit #devsummit

@ruprictGeek: At the REST session #devsummit. Will have to watch @vishcious preso online. Too many good sessions…

@jrockers: #devsummit woot for new forums!

@dbouwman: Support for attachments on features is nice… anyone know if this is 1:1 or 1:M? Filesystem or GDB storage? #DevSummit
@keyurva: @dbouwman 1:M #devsummit

@randallsutton: I can definitely see why they decided to go with ArcGIS 10 instead of ArcGIS 9.4. Lots of good stuff! #devsummit

@cageyjames: @dbouwman just called me a troublemaker in his presentation. #sweet #devsummit
The evening closed with Meet The Teams, this year over dinner to make it less rushed. It looked like all the teams got pretty busy pretty quickly, so I elected to get out of the way and rest up for Wednesday.
---
Wednesday
Today's plan was simple. Keynote and then hit some Technical Sessions.
Keynote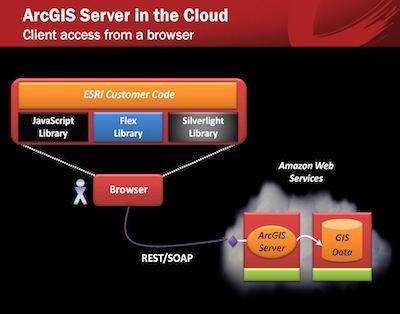 David Chappell's keynote slides can be found here. His talk was succinct and captivating, starting with a beginner's guide to cloud computing before moving on to discussing the various players in the industry. He covered the pros and cons of the various providers and finished by examining ESRI's products in the cloud. Some key points I took from it:
The cloud is the next major platform for the computing industry.
Putting your system in the cloud can be great, but isn't right for everything.
ESRI's cloud offerings make good sense.
ESRI already have a cloud app in ArcLogistics.
The cloud is an organic beast. Not everything fits cleanly under one label.
The cost of building and failing in the cloud is usually much lower, encouraging innovation.
Technical Sessions
In retrospect I should have tried to make it to some of the (improved) Demo Theaters. Mark that down as a rookie mistake at my first DevSummit. In the end, I made it to the following:
Here are some Wednesday tweets:
@vee_dubb: Dave Chappell, as usual, really knows his audience and gives them the insight they want. This is even better than last year. #devsummit

@cageyjames: Here we go: "Accessing Your Geodatabase Outside of ArcObjects" #holygrail #devsummit
@kirrilian: @cageyjames Arg! I wanted to go to that one too! Grumble! #devsummit
@JimBarry: @kirrilian If it helps, all sessions are recorded. They'll be on the #devsummit and Resource Centers sites soon.
@kirrilian: @JimBarry Ok, thanks. I'll check them out after the conference. #devsummit

@cfemmer: #devsummit burgers are on fire outside http://yfrog.com/0ts44pj

@RealIdahoBoy: Woah… mind blown with potential from ags rest soe possibilities. Ow. #devsummit
Party and Dodgeball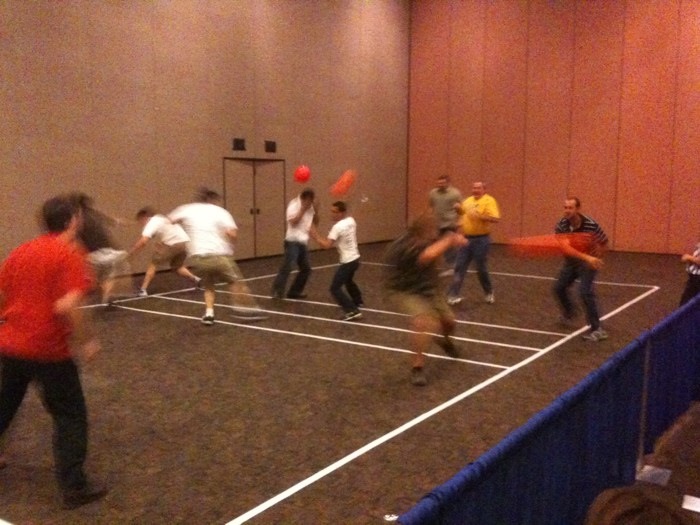 The day finished off with the party/social, which was apparently the best one yet. I didn't join a dodgeball team but there were plenty who did (after all, the prize of free registration for 2011 is not to be sniffed at).
There was various entertainment, food and drink in addition to the dodgeball, and as with everything else at the DevSummit, the whole event was very well organized. The dodgeball was very popular and attracted some good crowds, so don't be surprised to see it return next year.
---
Thursday
My day started with @ruprictgeek's excellent Scaling the Cairngorms: ArcGIS Server, Flex and Best Practices. If @mraad says a Flex presentation is good, you know it's good. Attendance surprised @ruprictgeek a little considering Wednesday night – I think he was expecting an empty room but it was far from that. His slides and code are available here.
I followed that up with Dev-to-Dev: ArcGIS 10 Desktop Development Topics and learnt about the new fast rendering options in Desktop, the new geocoding component of ArcGIS 10, and lastly Euan Cameron gave a very useful talk on VB migration.
Lunch at the closing session found me sitting at a table with @cageyjames and @ruprictgeek. In keeping with the whole feel of the DevSummit, Jim McKinney gave an honest and accurate appraisal of the event based off informal feedback, both good and not so good (we're always looking for ways to make it better!) before the team leads perched themselves on stage and took questions from the audience.
I skipped the last round of technical sessions. I had hoped to see the repeat of Developing Applications with the ArcGIS for iPhone API, but elected to try to beat the LA traffic, which as you can see below, I failed to do.
Some tweets from Thursday:
@tanawat: Last day of #devsummit. It's really great experience

@dbouwman: Great dinner and discussions with @kvangork, @chrisSpagnuolo, @bnoyle, @MJuniper, @dcardella and @JimBarry #DevSummit

@bnoyle: Stuff I need to learn about after mingling with fat brains at #devsummit: Cairngorm, Mercurial, TItanium, Obj C

@Gazymodo: scott morehouse just looks cool… so true #devsummit

@RealIdahoBoy: Closing up #devsummit http://tweetphoto.com/15762923
Last thoughts

All in all this was a fantastic DevSummit. Each day was packed, busy, and well organized. I'd recommend it to any developer using ESRI software (disclosure: As a contractor with ESRI I didn't have to pay for my registration this year, but having experienced it first-hand I think it's amazing value for money), and this year's event left most of us hungry to get our hands on ArcGIS 10.