Eleanor Haire
Recent Posts
We've heard lots of feedback over the last few days from users who want to find the old "Insert your favorite" blog. Unfortunately the redirects we had in place when we deployed the new ArcGIS Blog pointed to its home page instead of these specific locations, leading to many unhappy readers. We have most of these redirects in place now & will have the rest completed today. If you'd rather not wait, here's a table matching the old individual blogs to their corresponding URLs and RSS feeds in the new unified blog. Continue reading
ESRI appreciates the efforts of our developer community who help us discover how they are using our application programming interfaces (APIs). We also realize that as GIS developers, you have an interest in finding out useful metadata about your own custom applications. This has prompted us to develop the API Evaluator: a utility that gathers information about your code, by scanning exe or dll files for specific usage of .NET types released by ESRI.
Imagine you have written and built your own extension MyExtension.dll, which uses classes from the SpatialAnalyst ArcObjects library.
You scan defined search locations on your machine using the API Evaluator. The locations specified are searched for exe and dll files. Those files that reference .NET types released by ESRI are analyzed to find out how the API is being used.
During the scan, the API Evaluator detects that MyExtension.dll references an ESRI assembly and determines that two calls are made to objects in the SpatialAnalyst library.
This information is recorded and displayed in the Results Viewer.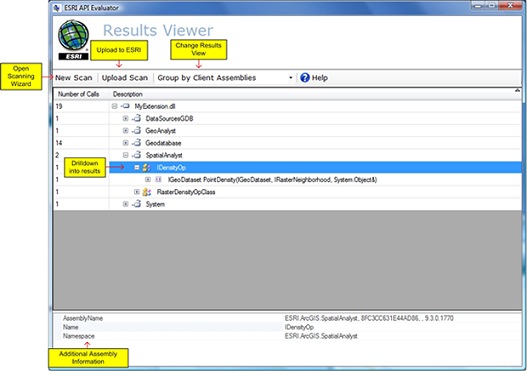 The API Evaluator reveals that your extension makes a total of 19 calls to ESRI objects, from 5 libraries: DataSourcesGDB, GeoAnalyst, Geodatabase, SpatialAnalyst and System.
You drill down into the results to find out how many times a specific method is called or accessed, as well as detect which version of the libraries MyExtension.dll is referencing. The versioning information is of particular interest because you are planning to upgrade MyExtension.dll to support ArcGIS 9.3.
You choose to upload the results of the scan to a Web Service hosted by ESRI for further analysis.
Why use the API Evaluator?
It's benefits are twofold; you gain a better understanding of which ESRI libraries and objects you are using and, by analyzing developer utilization of the current APIs, ESRI gains a better understanding of the needs of its users. ESRI will use any results from the API Evaluator to inform the design of future products for GIS developers.
As an added benefit, the API Evaluator can also be used to scan .NET sample applications, executables, and assemblies that you download from the Resource Centers, their code galleries, or ArcScripts. You can quickly determine whether the download uses ESRI libraries and objects that are of interest to you.
For more information on the tool, you can review its documentation or download it from the Code Gallery. We hope you can spend a few minutes using this tool and uploading the results – we really appreciate every bit of feedback we get.
An article just published in the April, 2008, ArcWatch describes the use of ArcGIS Explorer during the search for a man lost in California's San Bernardino Mountains. Here's an excerpt from the article that describes using ArcGIS Explorer:
The 2008 search used a server that accessed a satellite broadband connection to retrieve ArcGIS Explorer 3D visualization enhancements. It was easy to overlay the polyline shapefiles created from the GPS track logs and display them in ArcGIS Explorer to create a 3D map. Aerial imagery or topographic map data was displayed as a background and draped over digital elevation models. Roads and administrative boundaries could be added for reference. This gave a true representation of the terrain difficulty, which was much easier for field teams to understand than a two-dimensional topographic map with contour lines. SBSO personnel were especially impressed that all this information is available for the entire country and can be accessed through the freely downloadable ArcGIS Explorer application.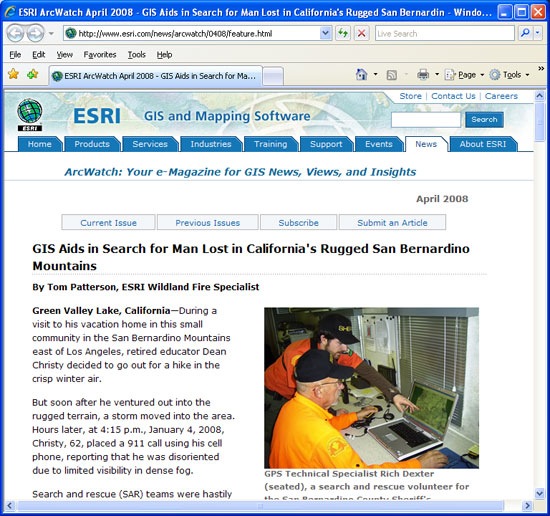 ArcWatch is a monthly e-Newsletter that provides up to date information on what's new with ESRI, its software, and the desktop mapping and GIS industry. Subscriptions are free.