alaframboise
Recent Posts
What a great turnout for our first Esri Dev Meet Up in Seattle! Over 40 geo and non-geo dev types from a number of organizations (OSM, MapQuest, City of Seattle, Seattle City Light, NOAA Fisheries, Code for America, Microsoft, Mappa Mundi GIS, Island County, Lockheed Martin, etc.) turned up at the Tap House Grill to meet and share ideas about mapping and dev technology. A number of folks also just walked in off the street after seeing our sign and were pretty surprised to see all the activity going on. Many of them stayed and and joined in the fun.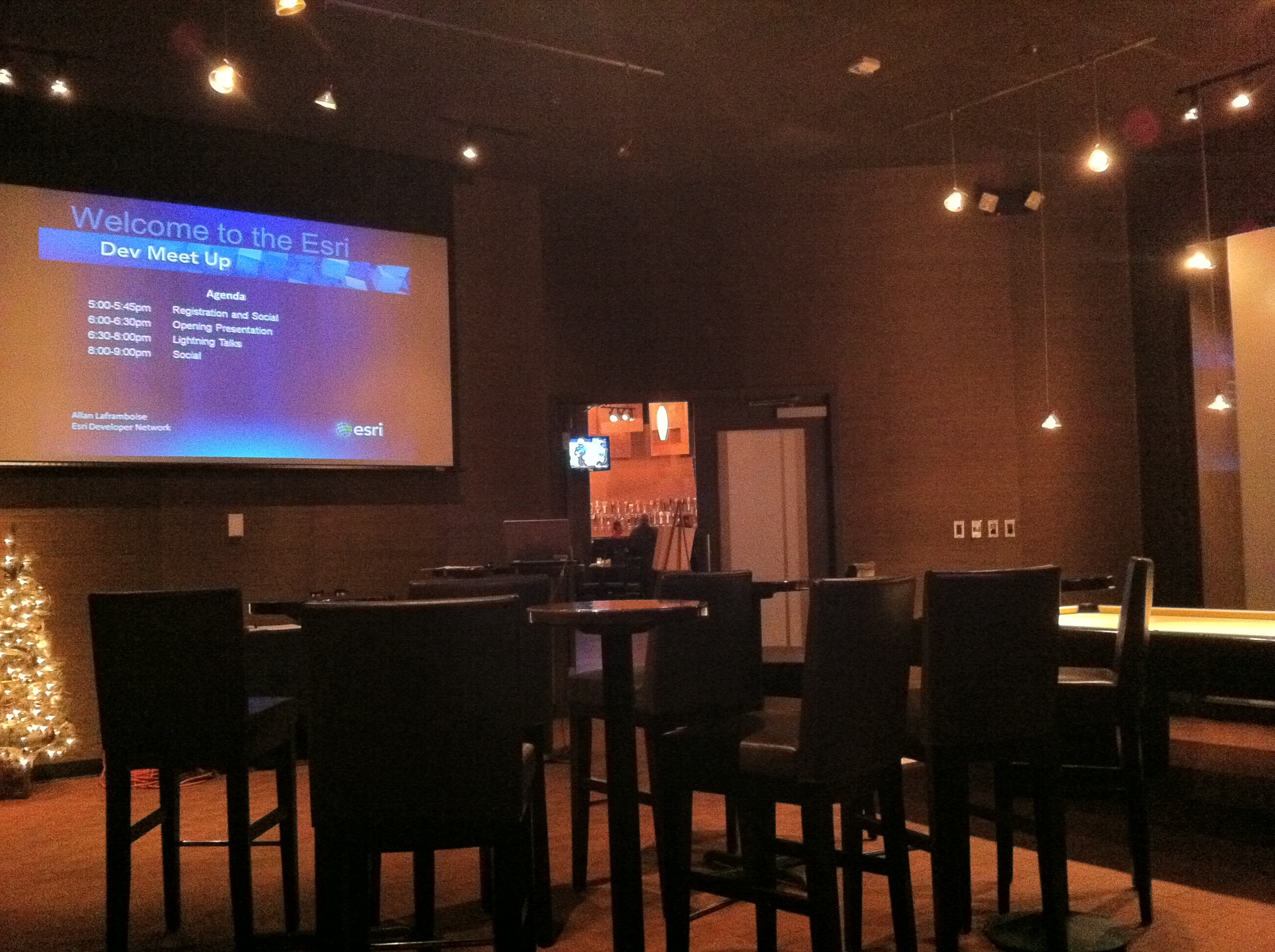 Steve Coast kicked things off with a presentation on Open Street Map (OSM). He covered what it was, where it came from, who's using it, and where it's going in the future. It was interesting to see how effective a crowd-sourced, Wikipedia-like platform could be used to map our world. He showed a few before and after maps that illustrated how an outdated paper map document could be transformed into an up-to-date, digital, geographic representation of the world – and all accomplished by volunteer citizens!
Keynote speakers don't always get off easy, however! The audience threw some pretty tough questions his way, but Steve waded through everything just fine and delivered an excellent presentation. Good job Steve, and thank you!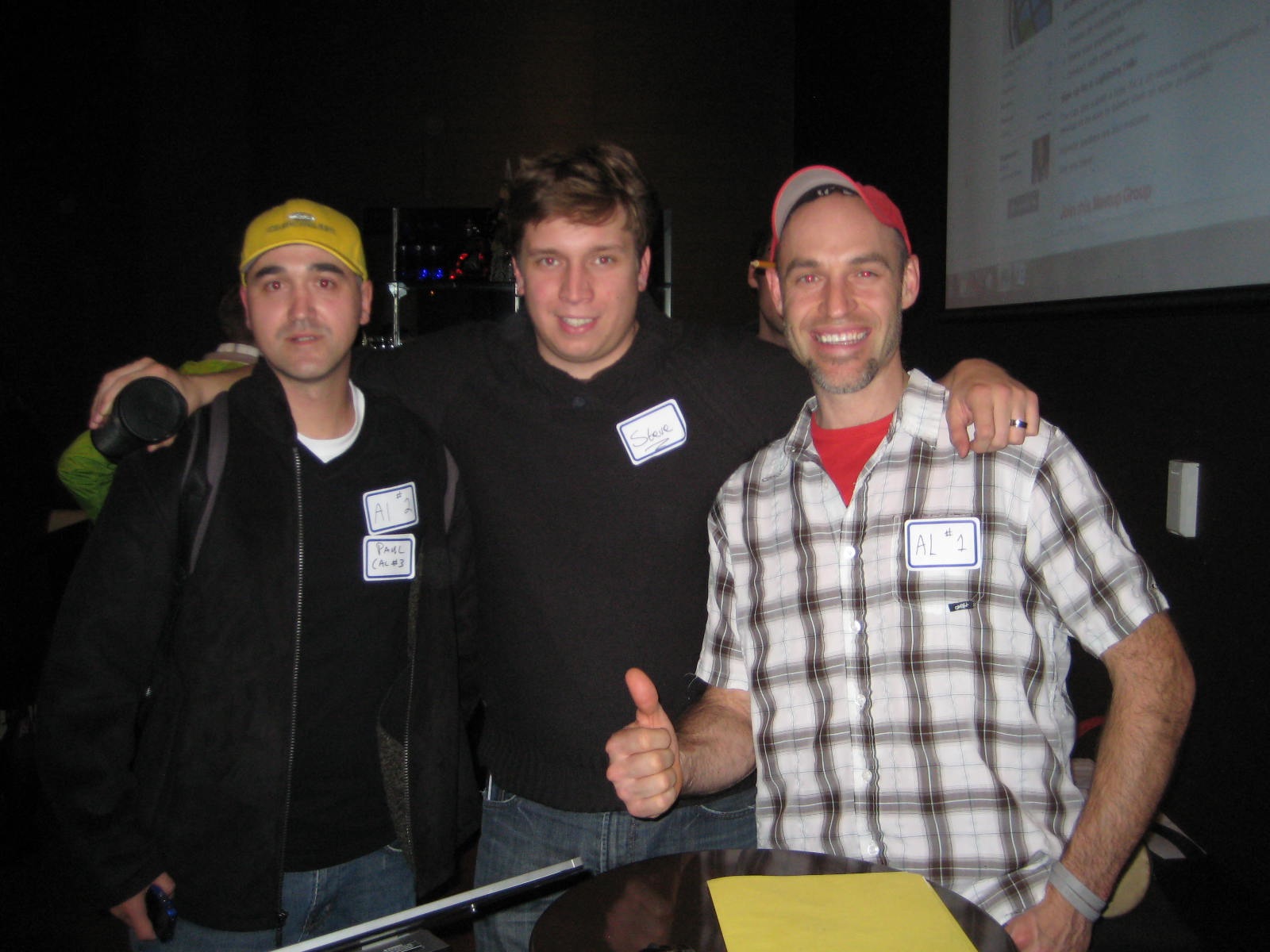 And if you didn't hear, Steve recently moved to Seattle and joined Microsoft, so it should be interesting to see what impact he has on their mapping development efforts in the future.
Lightning Talks
The lightning rounds went off without a hitch. Most of the presenters didn't use PowerPoint, and the one that did use a slideshow, used this interactive online tool called Prezi for creating and delivering the presentation. It was pretty slick and everyone loved it! A number of people requested the link, so here it is.
One of the presenters cancelled at the last minute, so hats off to Hurricane and Max who stepped up and delivered some great talks in their absence.

OSM was the big topic of the night. Al Pascual also showed an open source extension to ArcGIS that allows you to import OSM data, edit, symbolize, attribute and then export back to OSM. The extension is implemented as a set of Geoprocessing tools in .NET and the open source can be found here. Very cool!

One of the most interesting talks was from Max Ogden, Code for America, who actually found out about the event just hours before, came down, signed up, and delivered a lightning talk right there on the spot. He led the talk with a few online demos and a discussion on how government and private sectors could move towards publicizing their data and the different vehicles to do so. He even handed out an iPad with a 3D/geo augmented reality application on it for viewing geography and what's around you.
Who ever said you need to prepare for a presentation, right?
Other Hot Topics
Crowdsourcing and data integrity

ArcGIS.com for map generation for non-profits

Tree management with spatial tools

Open source

Interoperability

Jobs in GIS
In the end, this was another great night of information exchange, collaboration, and meeting new people. We had a full house and the food and beverages were great, so we'll definitely consider this venue again!
To get on board and hook up with other "geo" developers in the Seattle area, be sure to visit the Esri Dev Meet Up site and sign up.
See you next time!
EDN Team