Last night, the ArcGIS Online team updated the following map services with updated coverage in Europe and Russia:
The latest update has a number of improvements from the previous edition.  With these updates, map labels are designed to be more legible.  Certain feature labels appear sooner, at smaller scales than previously displayed allowing for more functionality at more scales. Additional content displays more hamlet/neighborhood names at large scales.  These updated maps provide more detail in city parks, golf courses, sports complexes, and airports/runways.  The map also displays more school labels.
Europe
Local roads, among other features, are displayed up to two zoom levels sooner than previous editions.  This provides more detail and reference information to the user at smaller scales, making more layers of the map more functional.
There is now country-level coverage across all of Europe and Russia to 1:18K and expanded coverage that includes all of Eastern Europe and a much of southern Russia down to 1:4K scale.  This more than doubles the area of detail from the previous release at these scales.  The area covered to 1:1K scale is more than four times greater in this new release than the previous version.  This expanded large-scale coverage includes urban areas in Iceland, the Balkan region, Eastern Europe (Ukraine, Turkey, and so on), and across Russia.
Japan
World Street Map content for Japan now includes community provided data with more labels in the local language.  Specific features in Japan, such as mass transit stations, appear on the map sooner, at smaller scales, than the previous edition.  Buildings are more accurately depicted and in certain areas in Japan, content now displays down to 1:1K.
The following maps give you an idea of the coverage for Europe, Japan, and Russia:
World Street Map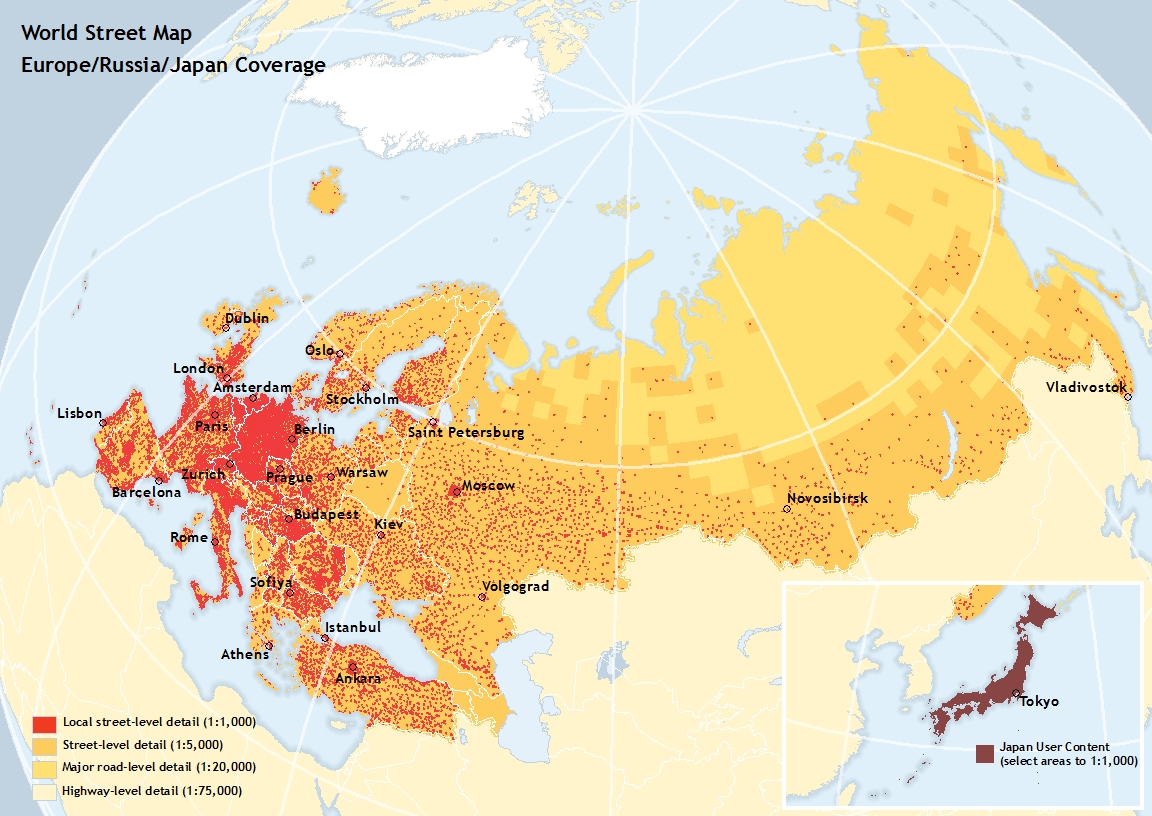 World Transportation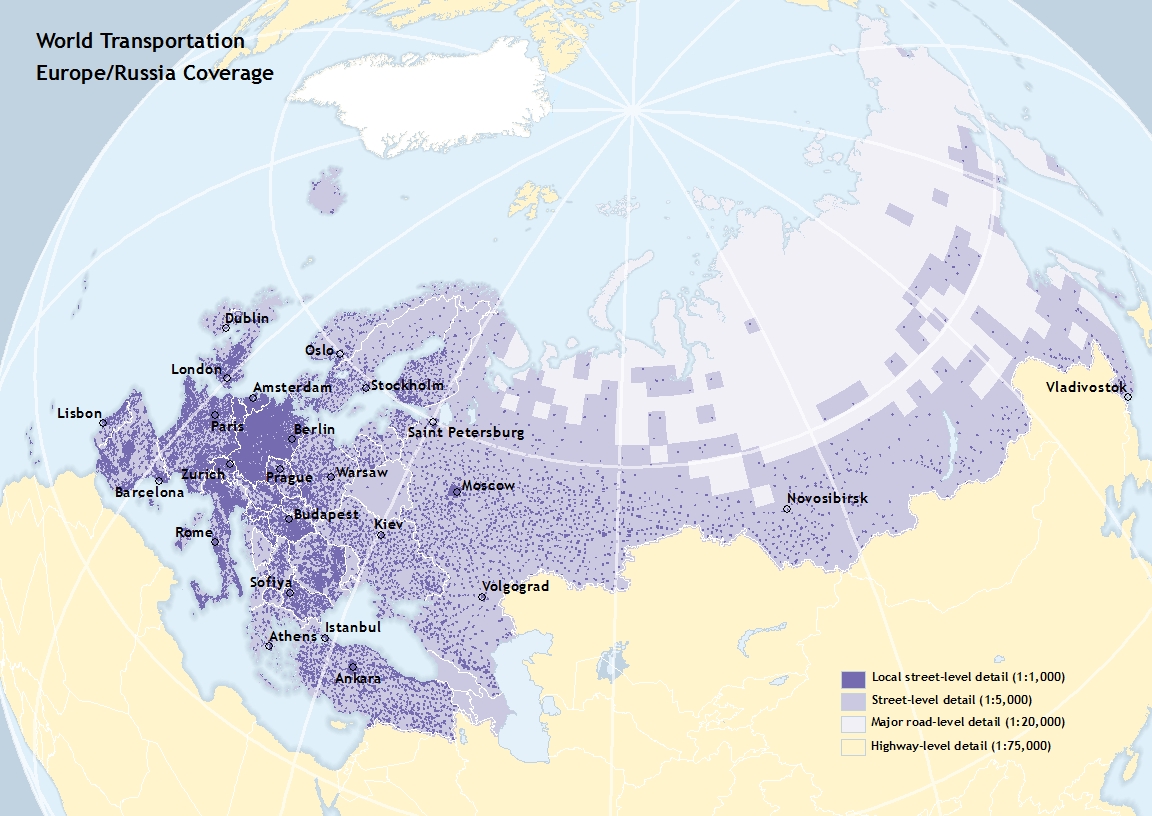 World Boundaries and Places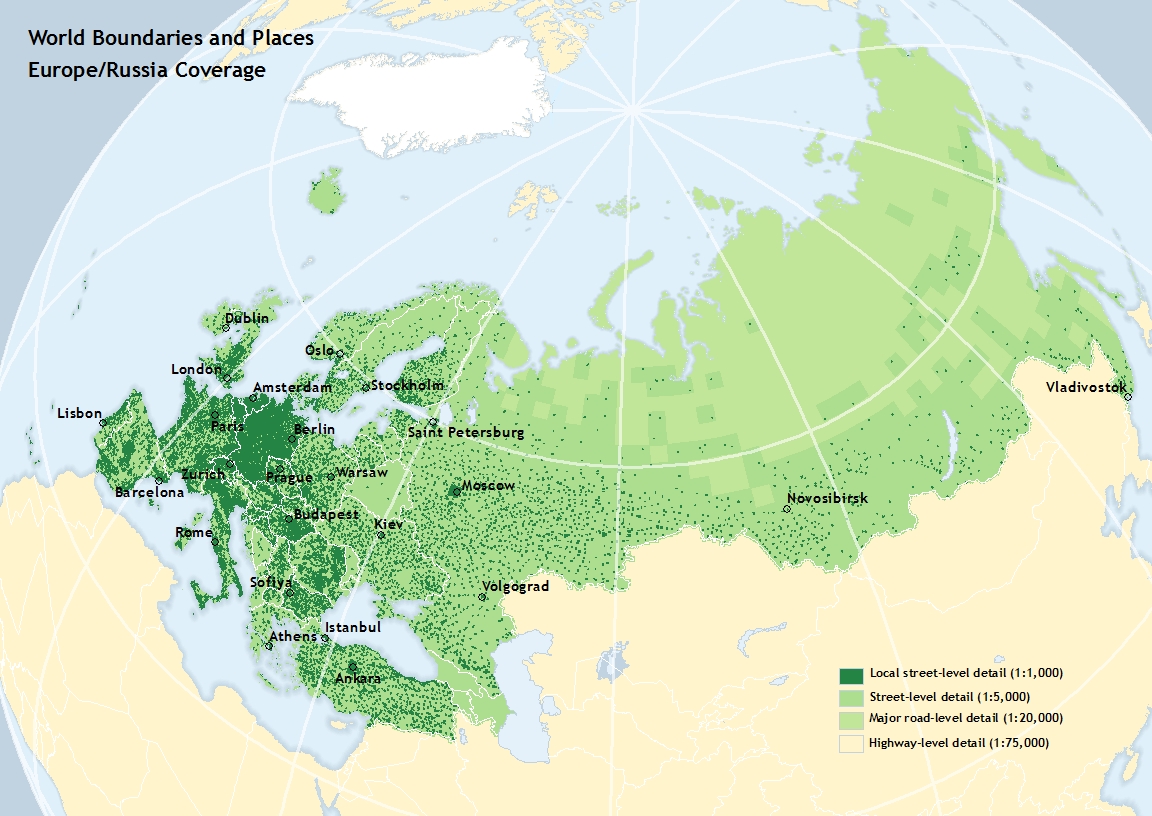 If you have previously used these map services, and you don't see anything new, try clearing your cache in order to see the updates.
If you have feedback or comments, please post them to our forum at http://forums.arcgis.com/forums/30-ArcGIS-Online.