By Mark Smithgall, Esri Cartographer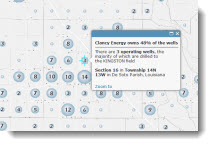 This well count aggregation web map shows how a complex data source, such as gas wells in a producing field, can be aggregated and portrayed in an easy-to-understand manner.  This was designed as an ArcGIS Online web map to show the aggregation number as a proportional symbol of wells per administrative area.  In this case, three levels of aggregation were used based on the most logical administrative areas:  parishes, Public Land Survey System (PLSS) townships, and PLSS sections.
This web map was created to serve as a proof of concept to show the aggregation of point symbols by area.  It can be extended to many other situations, depending on need.  To take full advantage of this particular web map, it should be used as part of a dashboard viewer where it can be combined with return-on-investment data to allow executives to make informed decisions.