by Stephen Brown, Graduate Research Assistant, Dept. of Civil Engineering, University of New Mexico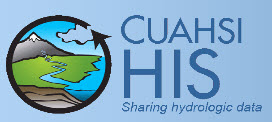 Hydrologic data analysis frequently begins with a tedious march through the gauntlet of national data repositories, downloading data gage-by-gage until you have acceptable coverage for your region.  The march continues as you homogenize the gage data to match locally collected values in an attempt to identify trends or simply graph the values for comparison.  A majority of research time may be spent simply conducting data discovery and management.
Incorporating a Hydrologic Information System into your workflow can save you time and increase analysis opportunities.  The Consortium of Universities for Advancement of Hydrologic Science, Inc. (CUAHSI) has developed an open source Hydrologic Information System (HIS) specifically to aid researchers with data discovery, analysis, and management.
The CUAHSI-HIS is composed of three key components:
HydroServer: Data storage, portability, and distribution
HIS Central: Metadata repository for HydroServers and national datasets
HydroDesktop: Data discovery, visualization, and analysis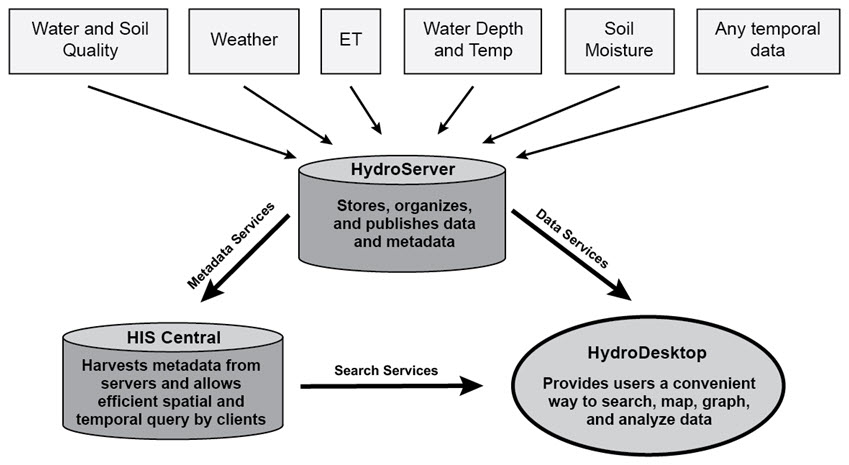 Discover Local and National Data:
The University of New Mexico in association with EPSCoR has been operating a series of evapotranspiration (ET) towers and wells running through 150 miles of the Rio Grande in New Mexico for over ten years as part of the Rio-ET project.  In 2011, the dataset was migrated to a HydroServer producing nearly fifty million measurements that are now queryable by spatial and temporal extent.
Using HydroDesktop, a quick search of the region near San Acacia, NM returns the Rio-ET sites as well as USGS, NWS, and EPA locations.  The site information presented in the initial search is returned from the HIS Central metadata repository.  Large regions can be searched using a simple box or a user supplied shapefile.  Keyword and time range selections further refine your query.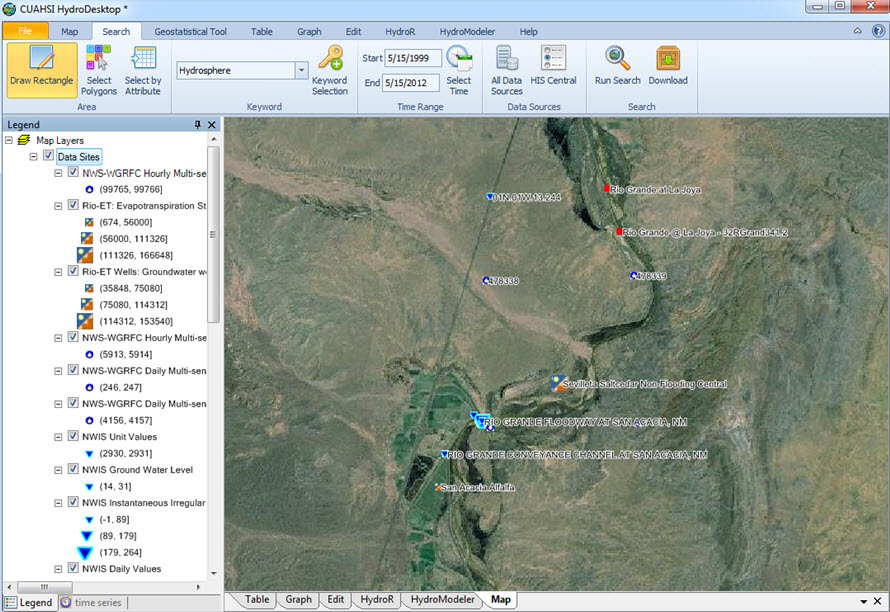 Downloading and entire data series is as simple as mousing over the station in the map and clicking 'download.'  Using the Expression Editor, which is similar to ESRI's Field Calculator, provides the opportunity to refine the download request.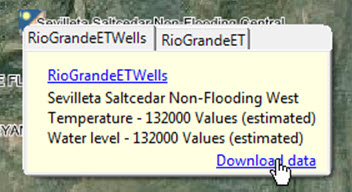 Visualizing the Data: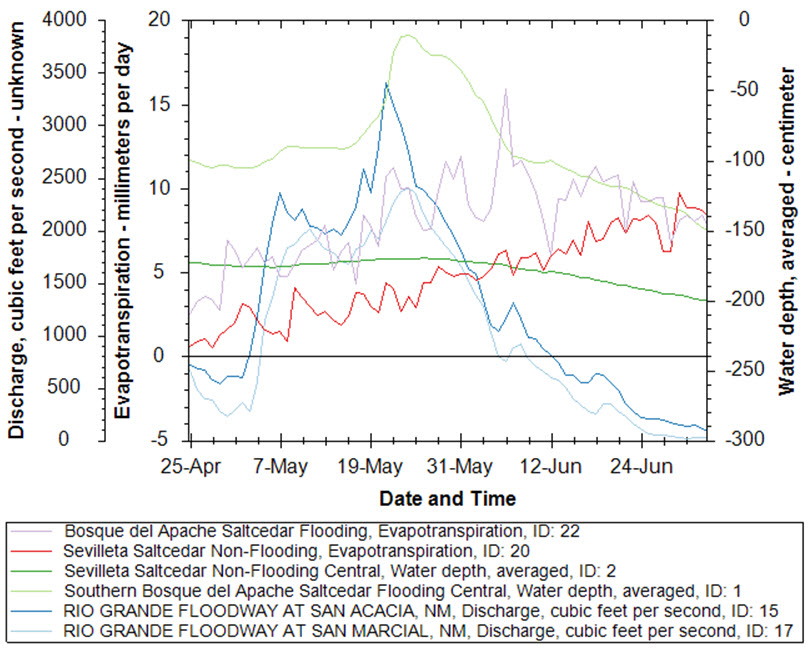 The above figure would have taken hours to produce before implementation of the HIS.  Using the graphing function in HydroDesktop, two ET towers, two wells, and two USGS gages were discovered and graphed in a few minutes.  The graph is dynamic, allowing movement backward and forward in time.  Visualization such as this is critical to develop understanding of complex ET, surface and ground water interactions of flooding and non-flooding regions.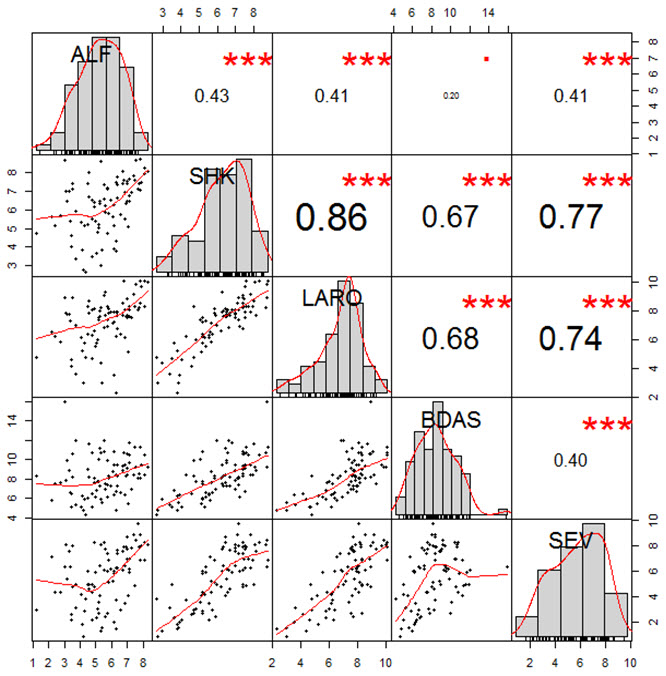 HydroDesktop has extended visualization, analysis, and modeling capabilities via incorporated plug-ins.  HydroR is the R-projects statistical package, facilitating advanced statistical functions or multivariate correlation like the figure above.  HydroModeler is a full instance of OpenMI, providing a robust framework for integrated modeling.
Getting data out of HydroDesktop for use in your favorite analysis tool is easy too.  All queries can be saved as shapefiles with full station metadata and joined with exported measurements for dynamic visualization using the time aware layers and graphs in ArcMap.
Summary:
Are you a data user?  HydroDesktop will save you time in data reconnaissance and visualization.
Are you a data producer?  HydroServer will help standardize your measurements and facilitate integration with external datasets.
This PDF provides an overview of the CUAHSI components.
Note:  I am not affiliated with CUAHSI, simply a user of their product.
Special thanks to Stephen Brown for providing this post. Questions for Stephen: stephenb@unm.edu