Have you ever wanted to add live weather, recent earthquakes, or perhaps current fire locations to your applications without writing any code?  Many of the projects we address in Esri Technical Marketing have this very requirement.
We tackled this challenge by using  what we call the Aggregated Live Feed methodology. This process downloads data from live sources such as NOAA and the USGS and aggregates it into a geodatabase, which is then served through ArcGIS Server as map services. You can see some of these feeds in action by visiting any of the 'latest incident maps' on the Esri Disaster Response site.
Recently we've developed a much simpler approach called ALF-Lite that doesn't require specialized knowledge of the enterprise geodatabase or third-party components. This methodology can be deployed to any large or small environment that supports Esri's ArcPy site package.
This new approach combines native Python functions to handle operational tasks, ArcPy to handle most GIS functions, and the lightweight file geodatabase to handle data storage.
Visit the Aggregated Live Feed Community for available downloads.
How the methodology works
In the diagram below, you'll notice that the feed routines start by downloading and preparing the data.
The output workspace is then prepared by performing any feature class management or schema operations required before inserting or updating the new data.
The last operation is to invoke the user-controlled deployment logic, allowing you to deploy the data any way you like by adjusting the configuration file. By default, the routine copies the output file geodatabase to a live folder that can be accessed during the update cycle thanks to the file system copy operations provided by Python.
Keep the live data folder updated automatically by creating a scheduled task to launch the feed routine as necessary. Access the live data directly with ArcGIS Desktop, or publish it using ArcGIS Server!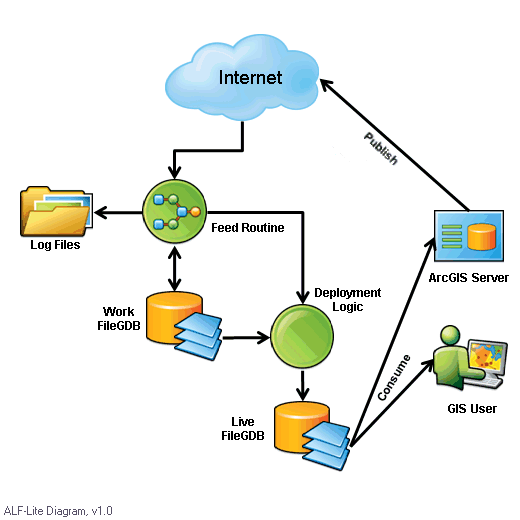 Contributed by Paul Dodd and Derrick Burke of Esri Technical Marketing