You can add data to your map using CSV or text files referenced from URL locations in both the ArcGIS.com map viewer and Explorer Online. An interesting feature of adding data via URL locations is that each time you open your map the data is refreshed from the source. This means that if the CSV or text file has changed, the map will automatically be refreshed with the latest data when opened. Let's take a closer look at how this works.
First we need to find a handy CSV file that is URL-based and updated regularly. The USGS earthquake latest feeds and data site is a good source for these, and we can find CSV files recording earthquake lat/long, magnitude, and other details that are updated at frequent intervals.
Below we've located the CSV file containing earthquakes recorded for the past hour. Earthquakes that have occurred more than an hour ago are dropped from the list, and the latest ones are added. The list is updated every few minutes. Right-click to copy the file location (we're using Firefox, your browser may show different options):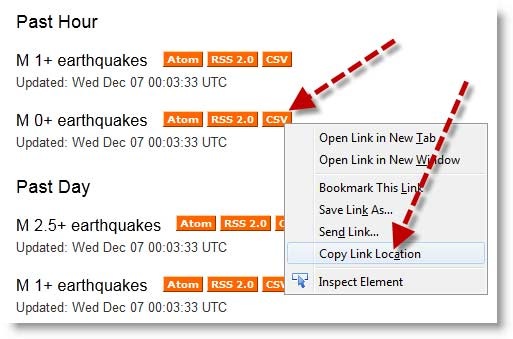 Open a new map then click Add, then Add layer from Web: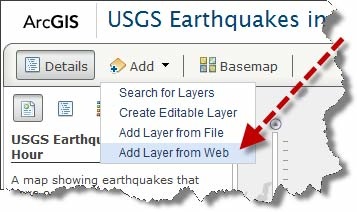 Click CSV, and paste the URL we copied earlier and paste it into the URL input box as shown below. Then click Add Layer to display the quakes.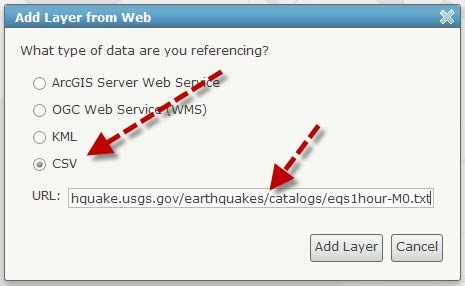 The locations of earthquakes are read from the file, which is located at the USGS website, and are displayed on our map. Below we've switched to the gray canvas basemap and have chosen a new symbol to display the quakes. We can see a couple of quakes in Alaska, and a couple more in California.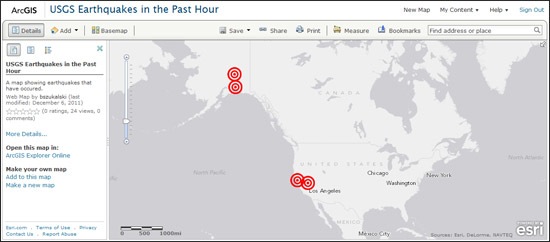 We saved the map, closed our browser, and worked on other things for a while…
After spending a few minutes answering a handful of emails, we went back and opened our earthquake map that we saved above. When the map is opened, the CSV file is read and our layer is refreshed. We can see right away that since we last viewed our map that a new earthquake has occurred in Southern California: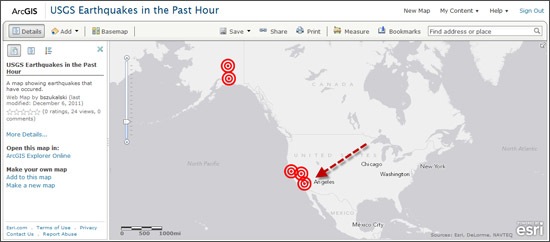 Next we opened that same map in Explorer Online, and noticed that once again the CSV has been updated; the two Alaska quakes and one of the California quakes that occurred more than an hour ago are no longer in the CSV and therefore are not displayed, and we're left with two that have occurred within the past hour in California.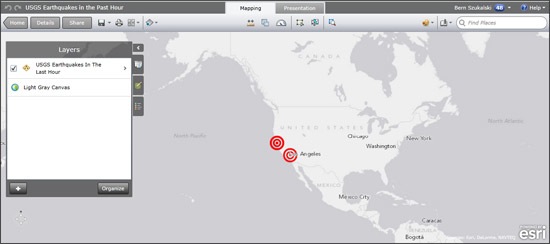 If we author a presentation using this map when we'll always be viewing the latest earthquake information: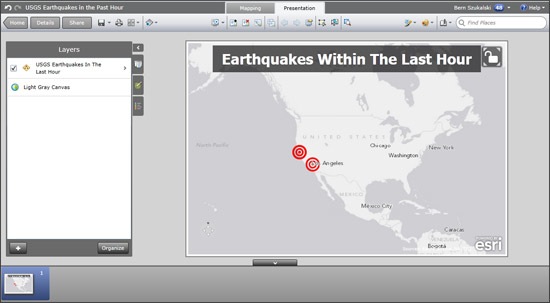 Note that the earthquake data is not updated in real time, but rather each time we open the map. When opened the CSV is read again, refreshing our layer so that we have the latest information. Another thing to keep in mind is that if you change symbols to draw the layer using values in the file (using color, size, or unique values), you may have to reapply your symbols to display new values or ranges not previously found in the source file.
For more information see the following help topics: