by Kyle Watson
The National Hockey League Commissioner, Gary Bettman, wouldn't allow a new or relocated franchise in Hamilton, Ontario of all places. Most likely due to a sandbox feud with that one guy who makes BlackBerry phones (are those the phones that still have buttons?). But I got to thinking, maybe there's a different angle…and if so I would need to enlist the analytical help of both Esri Business Analyst's USA and Canadian Editions side-by-side. We've seen an uptick in the usage of these together in several multinational companies and North American partners.
So my theory isn't that Hamilton couldn't support a team, but rather it would become a market dominating hockey mad superpower franchise – based on the sheer number of people living in the surrounding areas (too big to fail!). There's just too much existing fan overlap. Now I don't think that's rocket science, but I'll need the stats to back it up…so here it goes.
Some Analysis…
With Business Analyst, I quickly created 1.5hr drive time trade areas around Hamilton's Copps Coliseum and nearby franchise arenas. I know I would drive an hour and a half to see my favorite team play (they wear a lot of red), so we'll say this is a typical market area to draw fans from. As you can see below there is some extreme saturation going on in the Toronto and Buffalo areas, and Detroit Red Wings fans are just on the cusp of its eastern neighbors. No other NHL cities are within the same shouting distance.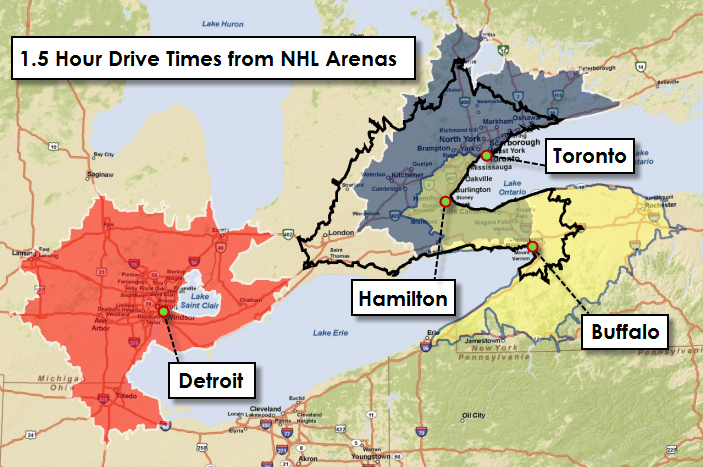 With both Business Analyst USA and Canadian Desktop 10 Editions installed, using the highly popular Spatial Overlay tool I am extracting current statistical and demographic information from both north and south of the border. This is interesting because I am not just using both product versions, I am also running analysis on international areas that are aggregated together as a whole. I can use these trade areas to pull the data, in this case I'll just focus on the latest total population figures. The census data estimates and forecasts are pulled from both Esri's Demographic Data Team and Environics Analytics depending on nationality. And there are thousands of variables to choose from…again, keeping it simple with just one current population variable for this example.
Here's an interesting breakdown of where the potential fans are residing by nationality. Over 10m for Hamilton? That's some serious reach. Digging deeper though as you might guess, they wouldn't all belong to Hamilton.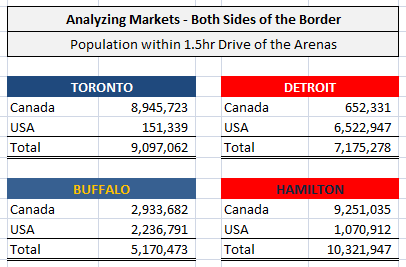 Here's a further breakdown of the market area population. One of the main takeaways of this map is the cannibalization between both Buffalo and Toronto Markets (green polygon). This overlap would represent Hamilton's core fan base, competing with potentially 2.5m Maple Leaf and Sabres fans.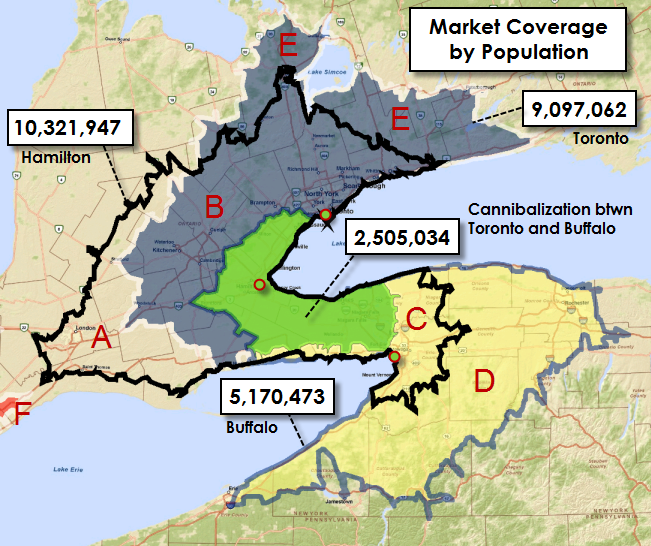 Additional population breakdown of the map above:
A – Hamilton's new, untapped territory, the London area. They pick up 529,688 potential Canadian fans.

B – The outer rung of Toronto. Hamilton would be in line to share 8,340,239 people!

C – The main Buffalo/Niagara area. A cool 2,505,034 people competing between Buffalo and Hamilton.

D – This eastern Buffalo area contains 1,746,547 Americans with no direct competition from Hamilton.

E – These areas around Peterborough and Orillia are way north and don't pose the market saturation of Hamilton. But there are still 756,823 folks that might watch a game.

F – The unobstructed market area of Detroit's Canadian friends. Interesting how is almost reaches Hamilton's proposed area, but doesn't.
I would make the assumption that the big guys (Toronto) want to keep their powerhouse as is with zero market competition – aside from what trickles in from the long time staple in western New York. And the little guy (Buffalo) needs to maintain every fan it can get. Amazingly the Toronto and Hamilton markets house over 11m people with only one NHL franchise – and Southern California has two? My guess is Bettman pays less mind to places where he has fans – he only wants new ones with vacant TV markets.
Back to the software side of things. I mentioned I have the USA and Canada versions of Business Analyst installed. This is for the Desktop 10 version (+ service packs). I can easily switch between the two by toggling the country specific datasets in the Preferences…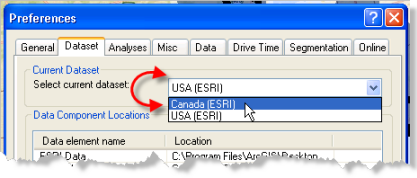 And one of the unique parts about the software is that both versions arrive on USB media. This means I can insert the USA or Canada versions, run them literally side-by-side, and not have to install any data (this will save 35GB or so of hard drive space). I could also install USA only or Canada only.
Here are the actual software products installed on my laptop…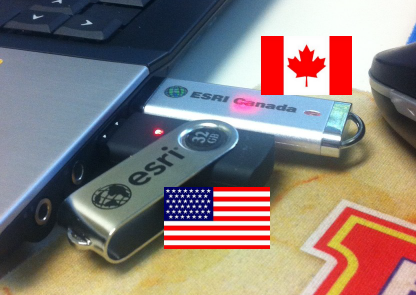 In conclusion Hamilton is primed for hockey – they have the market backing of a 10 million population pool to pick from. With the tools and data available, other analytical opportunities are endless…Game on!
Regards,
Kyle – The Business Analyst Team