Last week we released Service Pack 1 for ArcGIS Data Reviewer 10, which can be downloaded here. Besides the usual bug fixes for this service pack, we also included some enhancements that were requested by you, the users. For this blog topic I'd like to highlight some of those enhancements.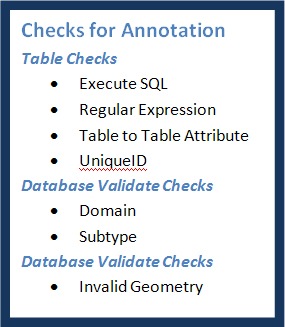 Annotation
For those of you who use annotation instead of labels, now you have the ability to validate standard and feature-linked annotation feature classes using certain checks. 
The Execute SQL check can now be configured to identify annotation features that are "unplaced," where the Status = 1.  Or if you have additional fields on your annotation feature classes you can use this check to ensure your mandatory fields are populated.
In addition, the Regular Expression check can now be used to validate the format of the values in a Textstring field.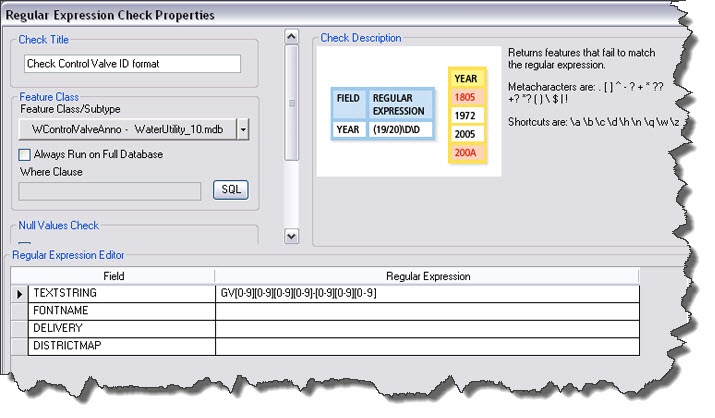 If your annotation feature class has multiple annotation classes defined you can now ensure your annotation features are associated to an existing class using the Subtype check.
And lastly, the Invalid Geometry check will allow you to find annotation features that have a null shape.
Batch Jobs
Do you have more than one batch job file? Many of you have broken out your batch jobs into smaller and more manageable batch jobs. However, in order to work with multiple batch jobs, you had to load them one at a time. Now you have the ability to select and load multiple batch job files in the Batch Job Manager and Batch Validate. All you have to do is hold down the SHIFT or CTRL key to select more than one batch job file.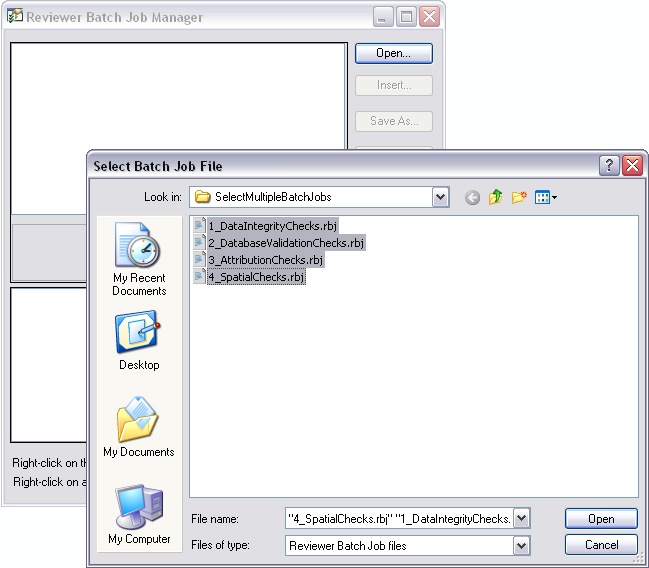 Currently in Batch Validate, you can control what checks you would like to execute by clicking on each check box one check at a time. Now you have the ability to toggle the check boxes for multiple checks at a time. You would accomplish this by highlighting multiple checks using the SHIFT or CTRL key and then clicking on the check box to toggle the checks on or off.
Flag Missing Features
If you don't like to enter a Notes description when using the Flag Missing Feature tool, you will be happy to hear about this enhancement. The tool now has a property to toggle off the warning message when committing missing features to the Reviewer table and the Notes section in the Flag Missing Feature Details dialog is not populated.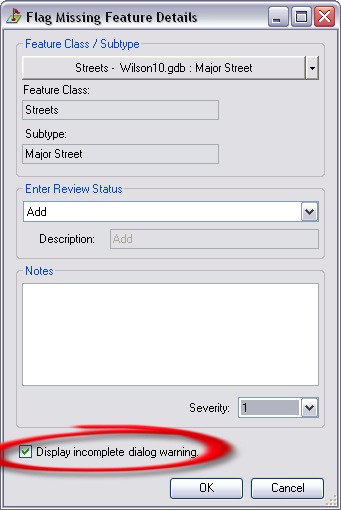 In addition to these enhancements, we've also fixed a number of bugs with this service pack. For more information on those, click here.
Contributed by Michelle Johnson