By Charlie Frye, Esri Chief Cartographer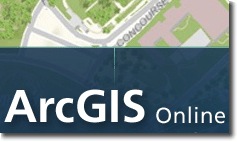 Last year we wrote about the concept of a map sandwich. A map sandwich is a basic formula for a legible map mash-up. This blog post explains how you make your own map sandwich on the ArcGIS.com Web site in 10 easy steps.
Go to www.arcgis.com and click on the "Map" button.
(If you have already registered your Esri Global Account, go ahead and log in; this will allow you to save and share this map.)

Click on Basemap and a new window will open in which you can choose the basemap for your map.

Choose the "Terrain with Labels" basemap (located at the bottom in the center).
Now click "Add".

In the "Find" section, type a subject, like "diabetes", then click "Go". For diabetes, you should get one result called "US Diabetes Rates Layer".

Click "Add" in the layer item.

Click "Done Adding Layers" (at the bottom left).

Now place your cursor over the US Diabetes Rates Layer item in the Contents area. A small right arrow button will appear at the right.

Click it and then click "Transparency".
Set the Slider to 50%. Then click on the map to make the transparency control disappear.
You now have a new online map!
With the map sandwich, you can see your data but you can also read the labels and see the lines that overlay your data. This is a quick and easy way for you to create maps that have data that is continuous, that is, it covers all or most of the geographic area. This approach will work for a whole variety of themes, like soils, ecoregions, precipitation, land cover, etc. It will also work with data that relates to common mapping units such as census tracks, zip code areas, parcels, etc.