By Jeffery S. Nighbert, Senior Technical Specialist for GIS, Bureau of Land Management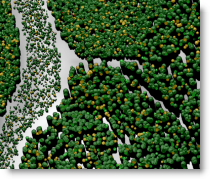 At this summer's Esri User Conference, I presented a talk on "bump mapping". Since then I have received many requests for the slide show and my narration. The Mapping Center folks have been kind enough to post my PowerPoint slides and allowed me to use to comment on the slides I presented and the topics I covered in the UC presentation. I used 35 slides in the presentation. If you download the slides you will find my narration in the bottom notes.
In the presentation, I started out with a definition of bump mapping that I hope will clarify the concept: "Using cartographic techniques to give the illusion of landscape dimensionality by using graphic symbology which considers the interaction of light and shadow with landform morphology, surface colors, textures and patterns." I then went on to discuss these other topics:
What is its origin and history?
A series of maps that demonstrate the development of the bump mapping techniques
Bump map objects
The random point method
Smart textures and "intelli-bump" queries
The future of bump mapping
A demonstration of the Bump Map tools developed by the Esri Mapping Center Team
As I said in my presentation, I'm just glad I had a hand, I believe, in getting folks to this point. Thanks to everyone for letting me share my ideas.