With the ArcGIS 10 release, Esri is providing a focused information model (Parcel Fabric) and optimized set of tools (Parcel Editor Toolbar) within the core software for parcel management workflows. This parcel editing framework provides industry-specific tools, such as split by area,parcel remainder, parcel merge, parcel traverse, parcel numbering, etc., and is the most efficient way to manage and maintain parcels in ArcGIS.
In addition to the tools you'll find in the core ArcGIS software, we've also provided an editing map that helps you organize your parcel information in a parcel fabric. This editing map has been authored for local government parcel editors and is a multi-scale map that organizes the cadastral reference system (PLSS), subdivisions, lots, tax parcels and encumbrances in a fabric information model that can be used with the Parcel Editor toolbar at ArcGIS 10. In the future, we'll post a blog that takes a closer look at this editing map.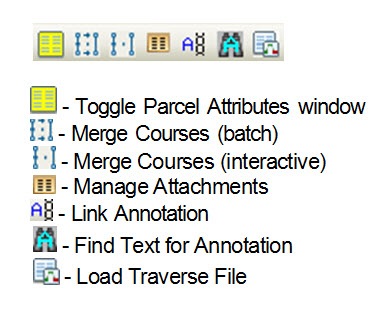 The parcel editing framework at ArcGIS 10 can be extended to make the editing environment even more efficient. Recently, the ArcGIS Land Records Team has been working on a few tools we'd like to share with the parcel community. These productivity tools can be added to existing toolbars and are packaged as a single Add-In. The tools will improve specific parcel editing workflows and also help you optimize your parcel data now that you've migrated it to a fabric information model.So let's take a closer look at the tools we're providing in the Parcel Editor Add-In:
Parcel Editing Tools:
Toggle Parcel Details – this tool will turn on the Parcel Attributes dockable window. Attributes for parcels and their boundaries can be edited using the Parcel Details window and in bulk through the Table dialog.
Merge Courses Interactively – this tool will merge individual parcel boundary courses in to a single boundary in an interactive manner. It is designed to work with selected courses within the Parcel Details window.
Link Annotation – this tool will create a link between a piece of feature-linked annotation and the boundary they represent in the fabric.
Find Text for Annotation – this tool will identify the proper boundary to place feature-linked annotation from when using the Ctrl-W shortcut.
Load Traverse File – this tool will load a traverse stored in a file into the Parcel Details window.
Parcel Fabric Tools:
Merge Courses In Batch – this tool will allow you to select multiple parcels and merge individual parcel boundary courses in to a single boundary. It allows you to enter in the maximum difference in the boundary course bearing when merging.
Manage Attachments – this tool will allow you to add or remove attachments from parcel fabric classes (parcels, lines, plans,etc.).
You'll find additional installation help and release notes in the attached. In addition, we've also provided the source code for this Add-In so you can extend and/or modify the tools as needed.
In closing, we've got some ideas for additional tools that will help you manage parcel data with ArcGIS 10 and will be posting them later this year. But we'd like to hear what tools you think would be valuable for managing parcels in ArcGIS 10, so send us your feedback and ideas.