A new version of ArcGIS Explorer (build 1200) is now available for download at:
http://www.esri.com/software/arcgis/explorer
http://resources.esri.com/arcgisexplorer
If you've not installed ArcGIS Explorer before, you can run the system check utility or review the platform requirements before you install. If you are already using ArcGIS Explorer on the same machine as ArcGIS Desktop, please note that the uninstall may take a few minutes…
What's new in this latest version
ArcGIS Explorer is a free, downloadable GIS viewer that provides an easy way to explore, visualize, share, and present geographic information. The latest release of ArcGIS Explorer (build 1200) has many new features and capabilities that make it ideal for providing wider access to your GIS data and capabilities. The new features are described below,
Updated Basemap Gallery
The ArcGIS Explorer basemap gallery has been updated with new ArcGIS Online content including World Imagery, World Streets, and World Topographic basemaps. Featured are the Bing Maps Aerials, Hybrid, and Roads, now available for free, unlimited use without additional licensing.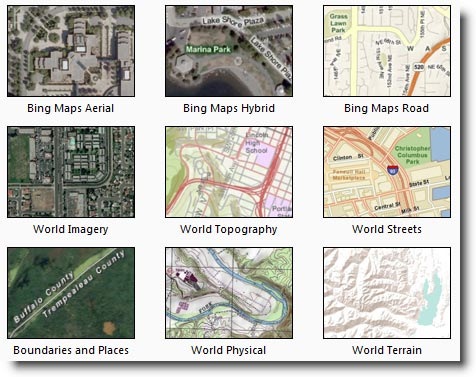 All ESRI basemaps have been recently updated. The World Topographic basemap includes detailed data obtained from the ESRI user community via the growing ArcGIS Online Community Maps Program. World Streets and World Imagery also include detailed updates from a variety of sources.

The basemap gallery now includes tools which make it easy for you to add and manage your own basemaps. The gallery is also dynamic, so new ESRI basemaps can be added and updated as soon as they are available. This ensures that you've always got access to the latest and greatest ArcGIS Online content.
New Analysis Gallery
You can connect directly to any ArcGIS Server and execute geoprocessing tools and models. Just enter the URL to an ArcGIS Server, choose from the tools you've published, and click to run it. The Analysis Gallery allows you to manage and share any of the tools you've added, making it easy to extend ArcGIS Explorer with advanced GIS capabilities.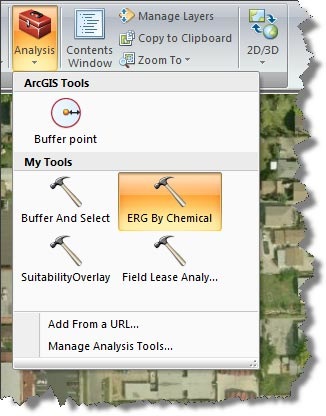 Enhanced Symbol Management
You've always been able to add new symbols from files or from a URL, but now we've enhanced the Symbol Gallery to make it easier to manage your custom symbols. Have your own symbols you'd like to use? Just add them to the Gallery and organize, rename, and remove them as you choose. All symbols work in both 2D and 3D modes.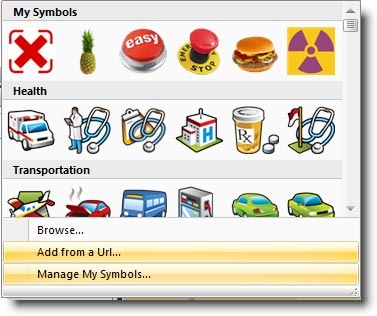 Fly Along
You've been able to fly along calculated routes between addresses, and now you can interactively add a line across any terrain to fly along it. Control your speed, observer distance, and observer angle. Play the animation, and stop or rewind at any time.
And More…
There's a lot more in this new release, including lots of behind-the-scenes improvements. Other enhancements include:
Improved worldwide gazetteer, geocoding, and routing using Bing.
Enhanced layer package (*.lpk) support, including label support and new data types such as TINs, terrains, and VPF. The source and data location are shown in the map item properties.
Optimized text and GPS (*.gpx) file import. The GPS import dialog allows you to choose from attaching to the surface or honoring the Z value obtained from the GPS device.
Improved 2D and 3D symbol placement.
The position display now includes support for decimal minutes and other coordinate systems (e.g., British National Grid). The scale bar has also been improved for greater accuracy.
Faster 2D/3D mode switching.
Faster graphics display, including dynamic surface draping.
Connection status display.
Right-to-left language support.
The default map is now 2D, and uses the Web Mercator Auxiliary Sphere projection. As in previous releases, all other ArcGIS projections and transformations are supported, and data is projected on-the-fly as needed in both 2D and 3D modes.
No API changes, all existing add-ins and custom code built using the ArcGIS Explorer SDK will continue to work without needing any modification.
Support for space navigator (a 3D navigation device).
New 3D speed check utility.
Updated ArcGIS Explorer and ArcGIS Explorer Labs groups on ArcGIS Online.
We'll be going over many of these new features in detail in future posts here on the blog.
For those experimenting with beta versions of ArcGIS 10, we will have another release of ArcGIS Explorer in conjunction with the ArcGIS 10 final release. That release will provide updates and support for new ArcGIS 10 features and capabilities.