The 9.3.1 release of ArcGIS introduces the ability to extend ArcGIS using Java. In addition to supporting automatic registration and hosting of Java extensions in ArcGIS applications, a UI-based JVM Config tool for configuring the environment for the extensions is also provided. Using this tool, users can configure JVM options for running their extensions and other options for troubleshooting purposes.
Due to the UI nature of this tool, however, users need to explicitly interact with it to apply configuration settings on a computer. This may not be suitable for installer programs / setup scripts that want to apply these settings in a silent fashion. Such programs can instead create a Windows Registration file (.REG file) containing these settings and import it into the Windows registry.
.REG files are text-based human-readable files for storing portions of the registry. For general instructions on working with .REG files to add / modify / delete registry keys refer to the following Microsoft KB article: http://support.microsoft.com/kb/310516. This document will provide examples of how to write Java configuration settings into a .REG file and importing it into the Windows registry.
Example 1: Choosing the default JVM and setting remote debugging ports.
JavaConfigTool: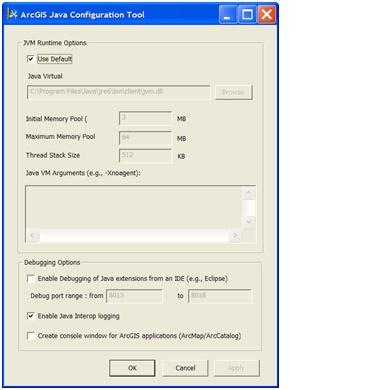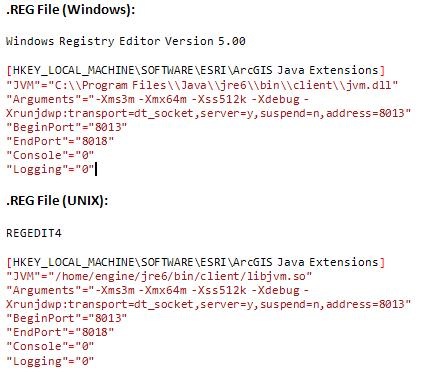 Example 2: Choosing the default JVM and enabling Java Interop Logging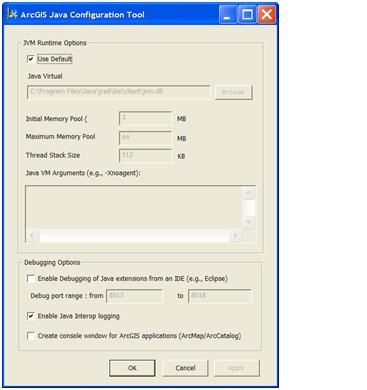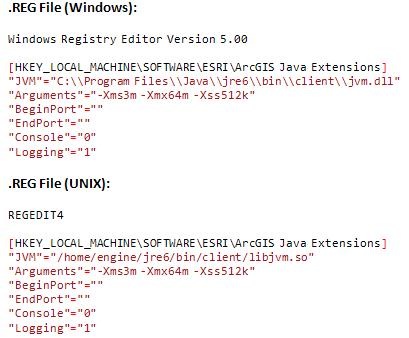 Importing a .REG file into the Registry:

Windows: c:>regedit.exe /s <filename.reg>
UNIX: bash3.2$ regedit –c <filename.reg>
Note that the regedit tool on UNIX is available only with ArcGIS products and the necessary initialization scripts for those products (ArcGIS Engine / ArcGIS Server) need to be run before invoking the regedit tool.
Credits:
Ranjit Iyer, Lead Developer and Ajit Dharmik, Lead Product Engineer of the ArcGIS Java development team contributed this post.