Bern Szukalski then turned to ArcGIS Explorer 900, mentioning that users would immediately notice the new ribbon user interface. He explained that it's not just attractive, but also very well-designed, and provides an easy and intuitive user experience, making Explorer ideal for providing broad access to GIS data and capabilities. Here's how it looks.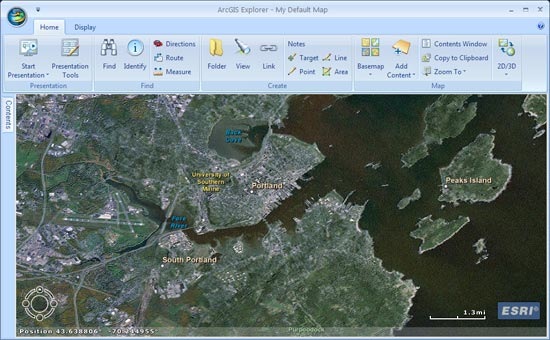 Next Bern opened ArcGIS Online to search for shared content to add to ArcGIS Explorer. He searched for "world energy" finding a couple of matches, one an Explorer layer (.nmc file, and new in 900) and the other a layer package authored and created using ArcGIS Desktop 9.3.1.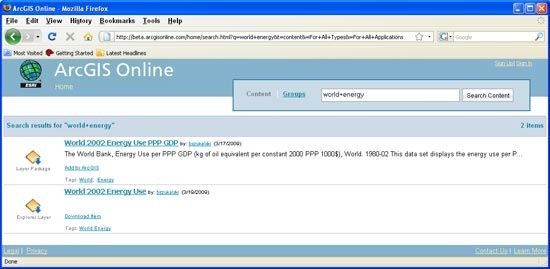 Clicking the layer package in ArcGIS Online, it opened automatically in ArcGIS Explorer, and here's how it looked.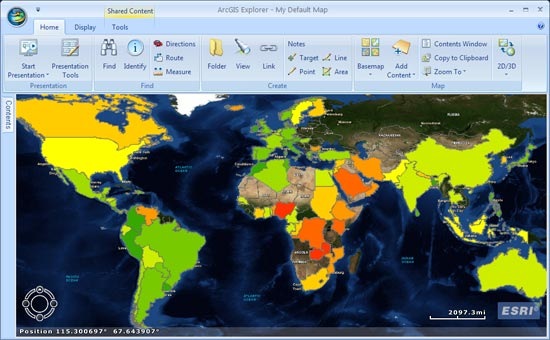 Bern noted that the ArcGIS Desktop cartography, field definitions, popup style, and other properties are included in the layer package, and fully supported when opened in Explorer 900. Bern also noted that the current view was 2D, but it could be flipped to 3D at the click of a button.

In 3D mode the features in the layer package were extruded, and Bern explained that this was because the layer package contained 3D features and had been created in ArcGlobe. In 2D mode, 3D features are draped flat. In 3D mode 3D features are extruded. This brought about a hearty round of applause from the audience.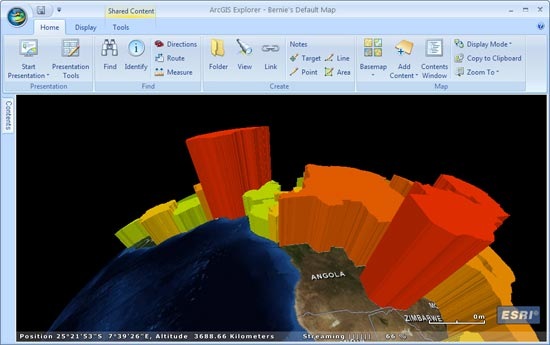 To be continued in Part 3…