A packed house attended this morning's opening of the Business Partner Conference, with many product announcements and demonstrations. ArcGIS Explorer 900 was among those highlighted, with a few important announcements of its own.
Jack Dangermond introduced Explorer 900 as "a big step," and of course we'd agree. Jack cited the new user experience, the integrated 2D/3D display capabilities, a variety of basemap choices (including Microsoft Virtual Earth imagery, hybrid, and streets basemaps), and presentation capabilities as important aspects of the new release.
ArcGIS Explorer product manager Bern Szukalski was introduced, and he began with a demonstration of layer packaging (new in ArcGIS 9.3.1) and ArcGIS Online sharing (also new at 9.3.1). An important point noted by Bern was that ArcGIS Online is a tremendous resource for GIS users, and soon you'll be able to easily search for and share maps, layers, and even tools. These will include the already available ArcGIS Online content from ESRI, and will soon include shared content from GIS users as they begin to leverage ArcGIS Online sharing.
Bern demonstrated using ArcGIS Online's new search capabilities to add shared web services to his ArcGIS 9.3.1 map. Here's the simple search interface you'll use to find shared GIS maps, layers, and tools.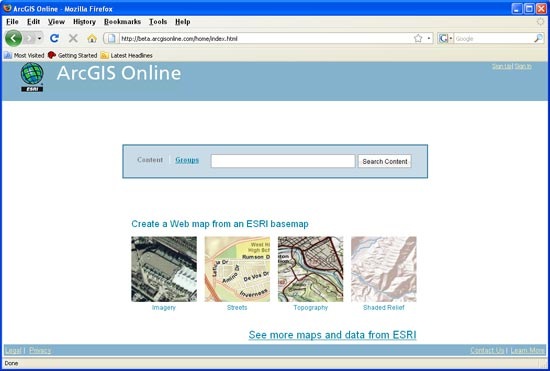 Next Bern created a layer package from one of his layers, using the new layer packaging capabilities in ArcGIS Desktop 9.3.1. One of the important aspects of layer packages is that they encapsulate ArcGIS Desktop cartography along with the data in an easily shareable format. For Explorer users this is especially significant. Since Explorer 900 now supports layer files and layer packages, Explorer users now can leverage all of ArcGIS Desktop's cartographic capabilities.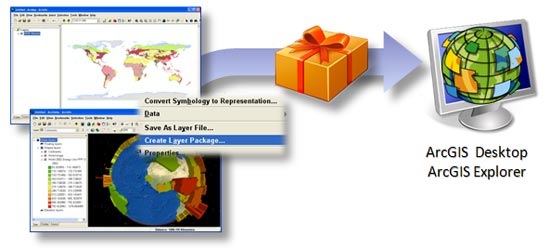 Here's a view of a Bern's shared content. Content can be shared to everyone, or controlled within specific groups. Note that there are many different kinds of content that can be shared, Web services, maps, layer packages, Explorer layers, and much more.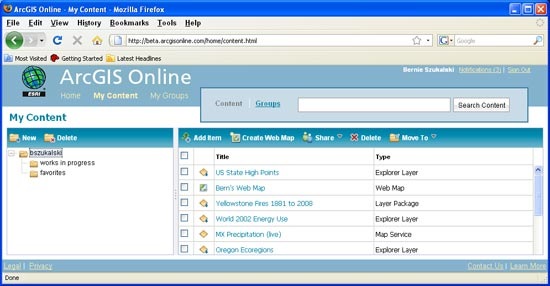 Here's a view of several groups, which serve to organize shared content within specific communities, and can also be used to choose how content is shared.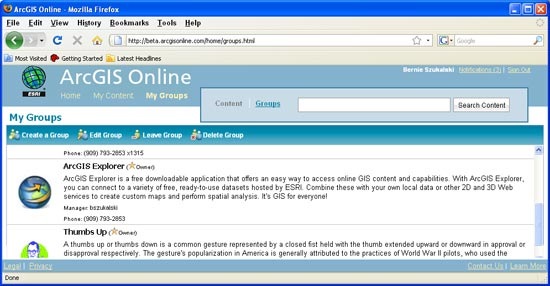 To be continued in Part 2….