Today at 10:00 a.m. PST marked the official beginning of the Great California ShakeOut. According to the Great Southern California ShakeOut site site the event will bring together millions of people throughout Southern California in the ShakeOut drill, the largest earthquake preparedness activity in U.S. history. The scenario depicts a magnitude 7.8 quake striking the southern San Andreas fault, and stretching north 190 miles.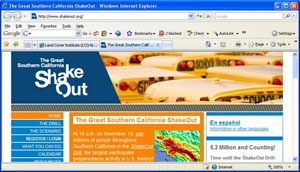 One of the event sponsors is the USGS, and according to the USGS ShakeOut site the earthquake would kill 1,800 people, injure 50,000, cause $200 billion in damage, and have long-lasting social and economic consequences. The USGS site includes content and a list of resources that you can use to find data for use with ArcGIS Explorer.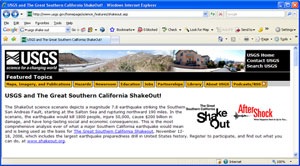 We followed links at the USGS site to the USGS Land Cover Institute site where we downloaded a geotiff of the Southern California landcover from the USGS Seamless Server. The landcover shows urbanized areas, and so is an indicator of population.
We added the NLCD data to our map by going to File > Open, then choosing Rasters as our content type and adding the file we'd just downloaded. We adjusted the transparency of this layer a bit by highlighting it in the contents, and then right-clicking to choose the transparency tool.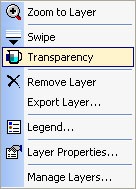 This newly added layer was on top of others in our contents, and to add some additional context we moved the transportation layer on top using Manage Layers (Tools > Manage Layers).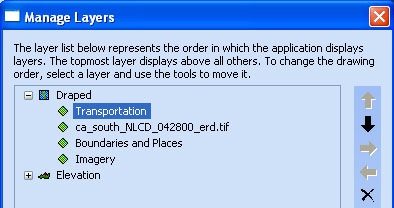 Here's what our greater Redlands, California, area map looked like.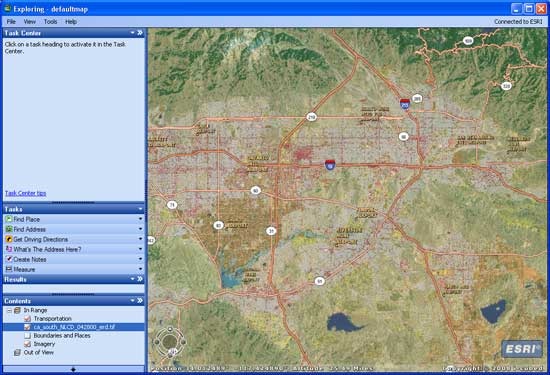 Next, we connected to the USGS earthquake magnitude 2.5 and greater GeoRSS feed. To do this we went to the USGS earthquake feeds site, and looked for the list of feeds.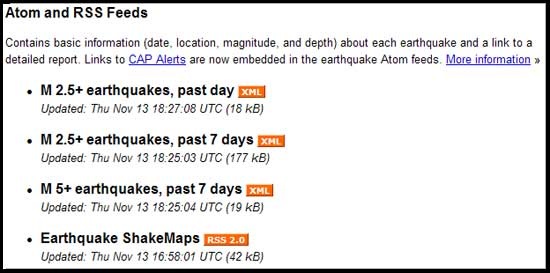 We clicked the link for M 2.5+ earthquakes over the past 7 days and copied the URL. We added this feed to our map by going to File > Open and choosing Servers. At the top we clicked the GeoRSS connection, and pasted the URL into the Server input.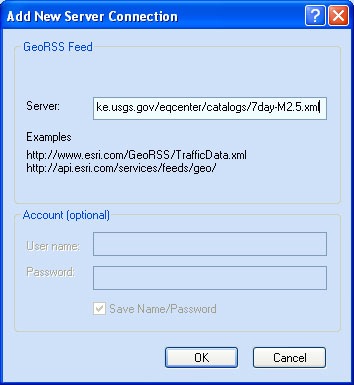 After we added the feed to our map, we discovered that on this ShakeOut day we've had a couple of recent temblors. Opening the popup on the feed event we can obtain additional information from the USGS site, and discover that the closest quake was a 2.8 just southeast of ESRI that took place last night shortly after 11:00 p.m.