By Charlie Frye, Esri Chief Cartographer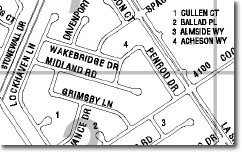 We got one of those perennial 'tough nut' questions on Ask a Cartographer today. The question has to do with using annotation versus on the fly labeling with Maplex and what are often called overflow labels, which I have also heard called "key lists". While we are able to recommend tips and tools for specific circumstances or implementations, the person asking was more interested in what is the best strategy and why. So here's their question:
"We produce a 1″=1000′ City map book from our GIS, similar to the Thomas Bros. street guides. The street names are annotation which has been carefully placed to best fit and while we've looked at Maplex we feel that our annotation is currently the best solution.

An issue has recently been raised at to how to best handle the names which do not fit on the streets. What we've done up until now is to place a sequential number on the street(s) and then have a table placed nearby with the number and the street name. Each individual tables usually starts with the number "1″ and sequences up.

This works fairly well in the map book format, where the page boundaries are predictable and the tables are placed with this in mind. However, it doesn't work so well with custom map projects, where the streets may be separated from the tables by the map boundary.

One proposal to make the maps easier to read has been that all the overflow street name should have an unique sequence number, city wide. This would make it easier to determine which table goes with which streets, but on the other hand I think we have around 750 street names in the tables, so the numbers would be large. This then becomes a larger issue when you want to add a new street to an
existing table – do you have a number in the table which isn't in sequence, or do you re-sequence all the tables citywide.

Thomas Bros. has their overflow tables always starting with "1″, but they have a symbol and letter ("A" in a triangle for example) which is placed by the tables and also by the streets to indicate which text block goes with which group of streets.

We see pluses and minuses with all three methods for labeling the overflows. We were wondering what others are doing and if there are other options out there that we haven't thought of, and also if there is a "best practice" that we should be following.

Thanks in advance for any ideas or suggestions."
Please respond in the comments with your ideas and suggestions.