NASA's PIGWAD (Planetary Interactive GIS-on-the-Web Analyzable Database) site offers a wealth of planetary information, including lots of information for Mars. PIGWAD's mission statement from their Web site:
(1) Produce a web-based, user-friendly interface aimed at the planetary research community that will support Geographic Information Systems (GIS) graphical, statistical, and spatial tools for analyses of planetary data, including the distribution of planetary GIS tutorials, tools, programs, and information; (2) Create planetary GIS databases consisting of peer-reviewed digital geologic maps, feature maps, topography, and remote-sensing data under the scientific oversight of the NASA Geologic Mapping Subcommittee (GEMS); and (3) Support and encourage the use of GIS in planetary research including geospatial open standards.
What this means is that there's lots of information for you to use with ArcGIS Explorer, both downloadable data in the form of shapefiles and rasters, as well as Web-based content services, and for a variety of planets and their moons.
Here's one of PIGWAD's ArcIMS-driven sites that allows you to view a variety of different information for Mars.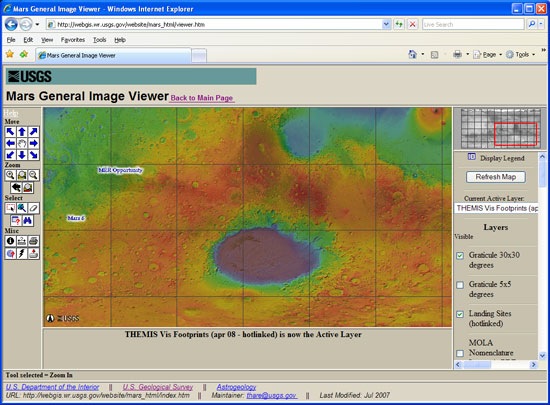 Though the content above is viewed in an ArcIMS Web application, we can also copy and paste the URL that we see in the address bar at the top of the app and create a connection directly from ArcGIS Explorer to the underlying ArcIMS services. To do that we had to do a little trial and error to determine the correct URL (PIGWAD doesn't publish the direct connect information), but it was easy to determine. In Open Content we chose ArcIMS as our connection type to create, and typed the connection information shown below: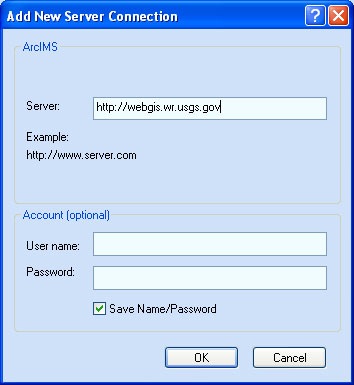 Once connected we can view the entire list of available services, and a good one to choose is Mars_general_image.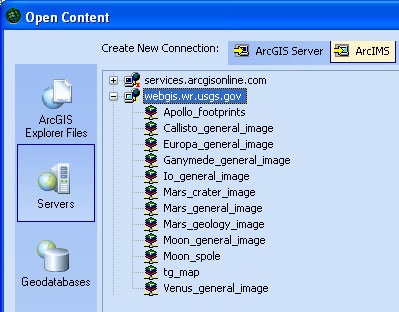 Once chosen we're presented with a series of dialogs that allow us to choose specific sublayers, how they are displayed, and other parameters. You can accept the default for most of those, but there are two that we'll take a closer look at.
The first is the dialog for choosing the Service Imagery Format. If you know the service is imagery-based, or global in context, select that option. If you know it's vector-based, choose the vector option. For vector services that provide only partial coverage this is the best option since it will make transparent anything outside the data. For a more thorough discussion of the options, see the Imagery Format Help topic.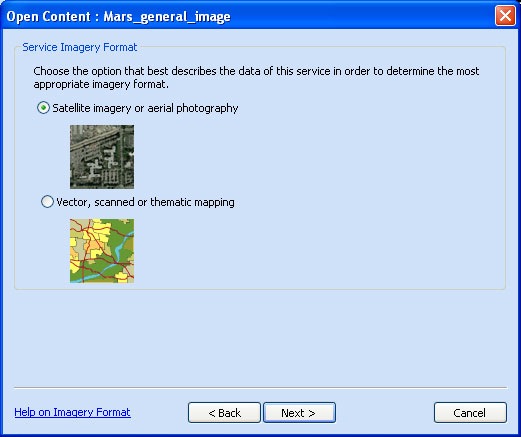 And here's where we choose the specific sublayer(s) that we want. There's a lot of them, and the easiest way to choose just one is to turn them all off with the topmost checkbox, then scroll down and choose just the sublayer we want. Here we've chosen the color shaded relief layer.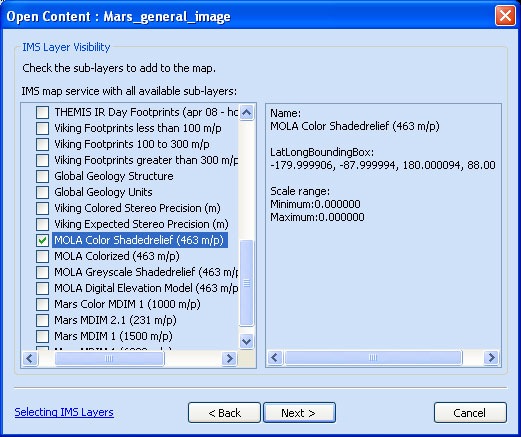 We can repeat these steps as many times as we like to access the specific sublayers we want to use in our Explorer map. See the Selecting IMS Layers Help topic for more details.
Since we're technically still working with good old Planet Earth as our foundation, we also may want to remove things that aren't appropriate for Mars. So we can turn off the positional text (Tools > Options > Map Display), atmospheric halo and fog (File > Map Properties > Environment) and also remove tasks and layers that don't apply.
Here's our completed map showing the use of the swipe tool. You can see we've turned ArcGIS Explorer into a "Mars Explorer."