Divesh Goyal, a Product Engineer on the ArcGIS Server Java team, contributed this post:
As we approach another Developer Summit, I am glad to announce the availability of an Eclipse plug-in for ArcGIS Server and ArcGIS Engine Java developers that will greatly simplify debugging ArcObjects code.
About the plug-in
One of the most valuable tools that developers have at their disposal is a debugger through which they can step through code one statement at a time and inspect objects in the application. As many of you may already know, Java classes in the ArcObjects API are really only proxies to underlying COM ArcObjects. As a result, examining these proxies in the debugger only reveals their internal details and not the state of the ArcObjects. This makes it difficult to find out information such as the coordinates of a geometry, or the layers in a map service. Consequently, developers have to sprinkle their code with System.out.printlns and analyze traces on the console to get this information. This approach can be inconvenient and time consuming.
With this new Eclipse plug-in, Java developers can examine the state of the underlying ArcObjects right in Eclipse IDE's Debug Perspective by enabling the "Show Logical Structure" option on the Expression and Variables window. Here's an example of a Point object without the "Show Logical Structure" option enabled.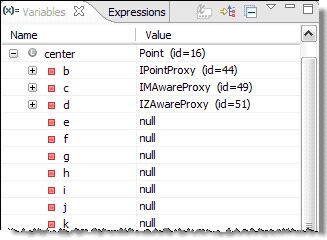 This information provides little insight into the underlying ArcObject and is not helpful in reasoning through a workflow while debugging. Now here's the logical representation of the same object with the "Show Logical Structure" option enabled.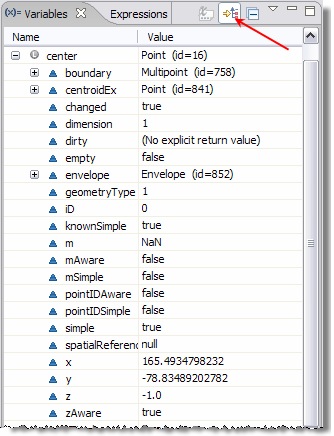 The logical representation presents more comprehensible information about the underlying ArcObject's state. This state is defined by the no-argument getter methods on it. You might sometimes see exception messages like "Exception Occurred: com.sun.jdi.InvocationException occurred invoking method" in the logical representation. This is normal and happens when some property of the ArcObject is not valid in the current context of the application.
The underlying ArcObjects could be running remotely in a separate process as in the case of ArcGIS Server web applications, or in the same process like in ArcGIS Engine applications. Thus, both Engine and Server developers can take advantage of this plug-in to debug their applications. I am very excited to share this plug-in with you, and look forward to your feedback. Code on!
How to get the plug-in
Follow these steps to download and install the plug-in from the EDN Website:
In the Eclipse workbench, go to Help > Software Updates > Find and Install
Select Search for new features to install, and click Next
Create a New Remote Site for the URL "http://downloads.esri.com/EDN/java/plugins/eclipse"
Enable this remote site and click Finish.
Expand the EDN tree in Search Results, and select the ArcGIS Debug feature.
Proceed to install the plug-in, and restart the workbench when prompted.