Labor Day Weekend is approaching, there's a heat wave in southern California, and clouds and even some raindrops seem to be all around. A likely escape for a long weekend getaway is one of the nearby National Parks, perhaps Yosemite. But what about the weather?
Here's a quick little mashup of a couple of different services, showing real-time weather published by the Pennsylvania State University through the Pennsylvania Spatial Data Access site, along with live Web cam feeds from Yosemite National Park.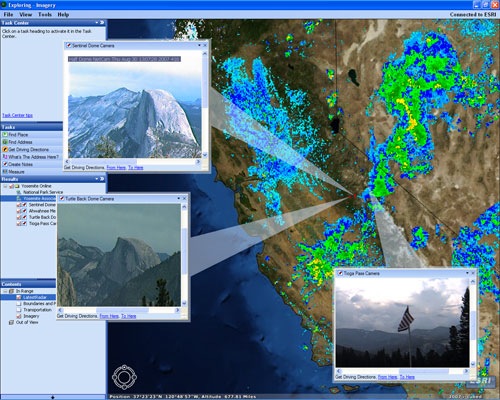 The weather is an ArcIMS service, and when we opened it in Explorer we set the service to update every 15 minutes, so we'd be seeing the latest weather conditions at regular intervals since late summer storms move quickly through the Sierra.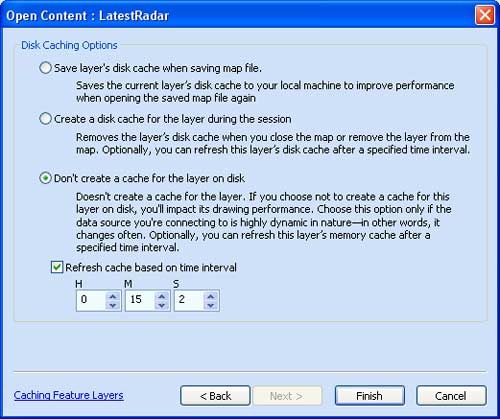 The Yosemite Web cams are published at the Yosemite Association Web site. We created several notes (using the Create Notes task) and entered the URL to the Web cams in the note text box.
Unfortunately the Web site didn't publish the exact coordinates for the cams, but it did describe their locations. We added the Physical Features layer from the new Resource Center to our map, since it includes the 1:24000 scale topo maps for the US. We used the cam placement descriptions and the topo maps to locate each Web cam push pin. The cams are not at their exact physical locations, but close enough for our needs.
Finally, to organize things, we used the new Add Folder capabilities for results to group all of them under one "Yosemite Online" note. We also added links to the note that point to the National Park Service and Yosemite Association Web sites.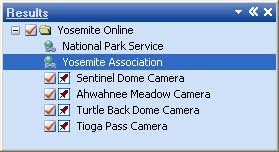 We've exported the note, and emailed it around to everyone on the team so they could open and see the same live cams and weather information in Explorer.