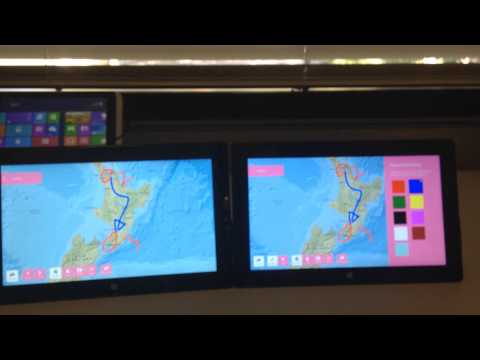 This video demonstrates peer-to-peer collaboration in a mapping application developed using the ArcGIS Runtime SDK for Windows Store apps.  The app uses Windows 8 native proximity capability to establish an ad hoc Wi-Fi Direct connection that is fast, low latency, secure and doesn't require any existing network.
The first part of the video shows extent synchronization or "shared navigation".  As a map on one device is panned or zoomed, its extent is immediately broadcast to the other device.
The second part is somewhat more advanced.  We developed a map-friendly overlay, similar to a graphics layer, that could broadcast graphics as they are being digitized.  Graphics, or partial graphics, are serialized to JSON and transmitted to the other device.  Note: the ability to digitize to a graphics layers will be part of the next release of the ArcGIS Runtime (see Map.Editor.RequestShapeAsync()).
The last part of the video shows the ability to offset one screen from the other.  Any extents that are transmitted or received are automatically shifted to give the illusion that the screens are connected.  This would be useful if someone wanted to create a single map display from multiple devices.
We have shown that map collaboration with Windows 8 is viable even in the absence of a local network.  The proximity capability at Windows 8.0 is still rather limited, for example, only two devices can participate in a Wi-Fi Direct connection.  Later this year when Windows 8.1 is released, proximity will be expanded to support ad hoc networks with two or more nodes using either Wi-Fi or Bluetooth.
Cinematography by Mark D.